The Writing Life of: Judith Barrow
Judith Barrow
This week on 'The Writing Life of:' I am thrilled to be interviewing author Judith Barrow. Judith will be sharing with us detail of her writing life, telling us all about her latest book 'Living in the Shadows', which was released on 16th July 2015, and answering a few fun questions too. Post contains affiliate links.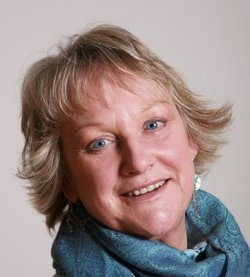 Judith Barrow,originally from Saddleworth, near Oldham, has lived in Pembrokeshire, Wales, for thirty four years.
She has BA (Hons) in Literature with the Open University, a Diploma in Drama from Swansea University and a MA in Creative Writing with the University of Wales Trinity St David's College, Carmarthen.
She has had short stories, plays, reviews and articles, published throughout the British Isles and has won several poetry competitions. She has completed three children's books.
She is also a Creative Writing tutor.
---
1) Do you remember the moment you decided that you would like to become a writer?
No, I've written for as long as I can remember. The first story I remember I was about six; it was about a teapot that fell off the table, broke its spout – and dies.
My mother says all my stories were of death and despair. I'm not sure what that said about me as a child.
2) How did you go about following your dream?
I had breast cancer twenty years ago. I'd always worked in the Civil Service and written as a hobby. It was a wake-up call.
I took a degree in English Literature and then a Masters in Creative Writing. I stared tutoring creative writing and, at the same time wrote my first book. I didn't send that one out as I knew it wasn't good enough. But it gave me the confidence to know I could write a novel.
3) Is there a particular author that inspires you?
Pat Barker; I love her work. I think my favourite novel is "The Eye at the Door".
4) What is your average writing day like? Do you have any strange writing habits?
I mostly get up around five o'clock, make a cup of tea and write for around three hours. If I have a class I'm out by nine.
Sometimes I'll write in the evening but it's not my best time. If I'm not tutoring I write for as long as I can before 'domestic trivia' starts demanding attention.
5) Do you write Longhand, Type writer, Computer?
Mostly on the computer. But if I'm away from home it's longhand in a notebook.
6) From all your books, do you have a favourite character?
Mary Howarth, the protagonist in my trilogy; She's loyal to family and friends and expects the same from them, tolerant, honest, kind, she knows her own mind. Most of all she knows herself; her strengths and weakness. Invaluable in any character.
7) Do you plot your books completely before hand or do you let your imagination flow whilst in the writing process?
I never know what's going to happen. I have a plan, a time line, an idea of where the plot goes – but there are so many deviations, I suppose I should answer I let my imagination flow. Except it's always a surprise when I find the story going in a direction I didn't think of.
Concerning your latest book: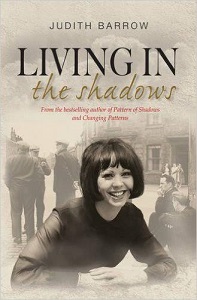 Living in the Shadows
Author – Judith Barrow
Publisher – Honno Welsh Women's Press
Release Date – 16th July 2015
Format – ebook, paperback

'It's 1969 and Mary Schormann is living quietly in Wales with her ex-POW husband, Peter, and her teenage twins, Richard and Victoria.
Her niece, Linda Booth, is a nurse – following in Mary's footsteps – and works in the maternity ward of her local hospital in Lancashire.
At the end of a long night shift, a bullying new father visits the maternity ward and brings back Linda's darkest nightmares, her terror of being locked in. Who is this man, and why does he scare her so?
There are secrets dating back to the war that still haunt the family, and finding out what lies at their root might be the only way Linda can escape their murderous consequences.'

8) How long did it take to get from the ideas stage, to the date of publication?
I knew what I wanted to write as soon as I'd finished the sequel, Changing Patterns, to Pattern of Shadows, the first of the trilogy.
I knew the story wasn't finished until the next generation's story was told. So, as far as the time lapse goes – about eighteen months.
9) Did you suffer from writer's block at any stage? How did you overcome it?
I don't think I've ever suffered from writer's block. But I have suffered from a lack of confidence in what I wrote the previous session of writing which made me freeze for a week or so.
10) How did you come up with the name(s)for your lead character(s)?
I try to fit the names with the era I'm writing about. And, usually, I make out a character sheet of each character and then see how I feel with names I choose and the description of the characters.
The names, Mary and Peter; the protagonists that are in each book of the trilogy, came to me then.
11) If your book was made in to a film, who would you love to play the lead character(s)?
Oh… I hadn't thought… well… For Mary, it would always have to be Suranne Jones. And Peter? Keifer Sutherland. But for Victoria – Mila Kunis. For Richard – Josh Hutcherson.
12) Did you get anyone in particular to read your work before sending it to the publisher i.e family member, friend etc?
I have a dear friend of many years standing who writes children's books, Sharon Tregenza. I don't send her the whole book before it goes to the editor of my publishers. But I do send her snippets and parts of the narrative that I'm unsure of; that don't seem to read quite right. And I have total trust in her opinion.
Author Links
www.judithbarrowblog.com
Facebook
Pinterest
I would like to say a big thank you to Judith Barrow for sharing with us details of her writing life, and for a wonderful interview.