Breakfast at Cannibal Joe's by Jay Spencer Green – Book Review
Breakfast at Cannibal Joe's by Jay Spencer Green – Book Review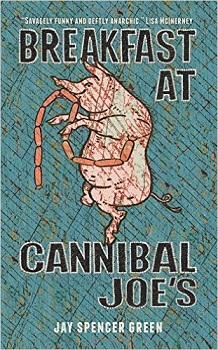 Breakfast at Cannibal Joe's
Author – Jay Spencer Green
Publisher – CreateSpace
Pages – 322
Release Date – 20th July 2015
ISBN-13 – 978-1514377659
Format – ebook, paperback
Reviewer – Marcia
I received a free copy of this book
Post Contains Affiliate Links

Joe Chambers is a CIA operative working in Dublin. Assigned to an agency-fronted publishing house, his problems include, but are not limited to, errant MI6 agents, insane profit-making schemes, a Francoist dwarf, and a tapeworm named Steve.
He is an utterly reprehensible character, fond of submerging his head in a sink-full of whiskey and fantasising about brutally murdering irritating teenagers. He is, in other words, the perfect guide to this bizarre and repulsive journey into Dublin's gutters.

American Joe Chambers is a CIA operative, working in Dublin for an agency fronted publishing house, Whetstone. He was sent there to work after he messed up big time, and this was his punishment, of sorts.
Breakfast at Cannibal Joe's is a uniquely dark comedy story, which has many bizarre occurrences happen throughout the book. It is mainly via those occurrences that the humour is produced.
Unfortunately for me, I just couldn't get into it. The book sounded a lot of fun, and I really did want to delve into it, basically to have a laugh, but I found it hard to grasp. I really can appreciate the skill involved in creating such a story, and linking it altogether with humour even if it was beyond my understanding.
I was intrigued enough though that I wanted to persevere and finish Breakfast at Cannibal Joe's, which luckily I did. I believe that this book would appeal to people who like strange, funny, dark humour, which I have realised, I must not! 🙁
Book Reviewed by Marcia
Purchase Links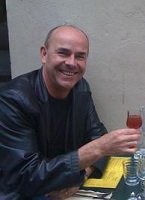 Resident in Ireland for the past 23 years, Jay Spencer Green has worked as a factory laborer, hotel dishwasher, van driver, conveyor belt supervisor, college lecturer, court coverer at Wimbledon, stagehand for the Chippendales, correspondence course tutor, and database editor.
The consequent cornucopia of negative work experiences has provided enough trauma for several novels, which are now being stealthily introduced to the reading public like a slow-release poison.
The first of these, Breakfast at Cannibal Joe's, was voted one of the top ten indie books of 2015 and won the Lord of the Book Covers award. Lisa McInerney, winner of the Bailey's Prize for Fiction, described it as "Savagely funny and deftly anarchic."
Over the years, Jay has launched a number of projectiles into space, usually in the direction of the TV.
Author Links