The Inventing Tubes by Bryony Supper – Book Review
The Inventing Tubes by Bryony Supper – Book Review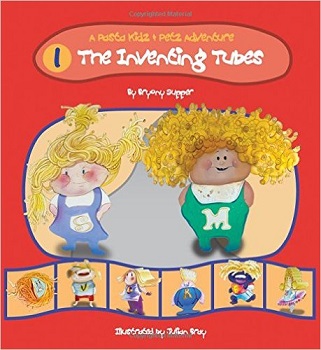 The Inventing Tubes


A Pasta Kidz and Petz Adventure
Author – Bryony Supper
Publisher – Matador
Pages – 24
Release Date – 7th November 2016
ISBN-13 – 978-1785898709
Format – Paperback
Reviewer – Stacey
I received a free copy of this book
Post Contains Affiliate Links

'The Pasta Kidz(TM) and Petz Adventures' are humorous, zany, magical and chaotic stories that bring together the pasta-themed Kidz – including Sarah Spaghetti, Ricki Ravioli, Camilla Cannelloni (above) and their creative Petz – Mumbo the Macaroni Dog, Spud the Spaghetti Horse and Val the Vermicelli Snake (above), together in unusual circumstances, engaging with strange magical objects that have a life of their own.
The songs, music and humour, told in specially invented pasta language, will engage 4-to-7 year-olds in a fantasy world of friendship. The plots and messages reinforce how the Kidz are unique, with different personalities and their own needs.
Each tale shows how they help each other, usually with their own individual Petz, and throughout the series we see how their personalities and friendships develop, especially when encountering new characters, like the evil and huge, Pasta Beasties!
In The Inventing Tubes, the first Pasta Kidz(TM) adventure in a series of up to forty books, Sarah and Marc Macaroni try their hand at inventing fun objects – and get a very grumpy PastaBall to play football with. But Sarah proves that the sport is not just for boys, and she tries her hand at inventing her own ball!
Every highly-branded Pasta Kidz(TM) and Petz story, illustrated in beautiful, full-colour detail, contains a moral message, and will both inform and entertain young readers.

The Inventing Tubes is the first book in the Pasta Kidz and Pasta Petz adventure series, with eleven more books to follow.
In this book we meet Sarah Spaghetti and Marc Macaroni. Marc has invited Sarah to see his inventing tubes. In the tubes, all their pasta dreams come true. Sarah wants Marc to show her how to invent something, so he invites her in through the magical door, so that she can start inventing.
Marc shows her the PastaBall that he has invented. Soon after, Sarah wants to make one too, but not everything goes according to plan, and they have to call on the Pasta Petz to save the day.
This children's book is a lot of fun. It is completely unique with its pasta children and animals. I can see kids finding this book a lot of fun, and wanting to read the whole series.
The illustrations are clear, vivid and eye-catching. They completely communicate the story and show the characteristics of all of the Pasta Family.
My only little niggle I had with the book was that I would of loved to have seen this one as book two in the series, and have the first book as an introduction to the characters, and where they live, what each of them is like etc.
This doesn't take anything away from the wonderful story that Bryony Supper has created. She has even added a vocabulary section at the back that helps you understand the Pasta Kidz, as they each have their own language. Plus there is a page to colour in too.
Book Reviewed by Stacey
Purchase Links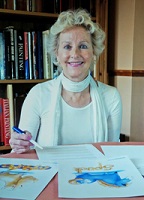 Bryony Supper trained as a professional actress at the Drama Studio, Ealing. From there she went into Rep, always playing comedy roles and has a wide range of experience from the 'Rocky Horror Show' to stand-up comedy and children's television – she was a regular on ITV's Gimmee Five with Ant and Dec, writing all her own material.
Now, using her natural talent for comedy, she has created the Pasta Kidz™ and Pasta Petz™ adventure stories for children aged between 4 and 7.
Author Links
www.pastakidz.co.uk
@ThePastaKidz
Facebook
Instagram
Pinterest
Goodreads