The Kindest Red by Ibtihaj Muhammad – Book Review
The Kindest Red by Ibtihaj Muhammad – Book Review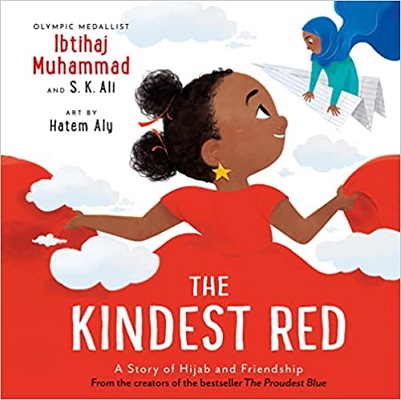 The Kindest Red
A Story of Hijab and Friendship
Author – Ibtihaj Muhammad & S. K. Ali
Illustrator – Hatem Aly
Publisher – Andersen Press
Release Date – 5th January 2023
Pages – 40
ISBN 13 – 978-1839133039
Format – Paperback, hardcover
Star Rating – 4
I received a free copy of this book.
This post contains affiliate links.

Synopsis
The highly-anticipated sequel to The Proudest Blue; a NEW YORK TIMES BESTSELLER which explores sisterhood, and kindness, from trailblazer and Olympic medallist Ibtihaj Muhammad.
I want a kind world. A world where kindness passes from one to another.
When Faizah's teacher asks her class to imagine what kind of world they want to live in Faizah imagines a world where everyone is kind to one another, and tries to create that world in the school playground. But what Faizah wants most is to be like her big sister, Asiya. Will Faizah's classmates repay her kindness and find a way for her to match Asiya in time for school photo day?
An important and uplifting story about celebrating each other's differences and similarities.
Little Faizah is at school with her classmates. Their teacher asks them to come up with some ideas about the world they want to live in. Faizah would like to live in a kinder world and so she and her friends set out to be kind to one another and help others for the rest of the day, which includes photograph day.
The story is the sequel to The Proudest Blue, which I haven't read, unfortunately, if you have read or have the first book I would say you need to get this one too to carry on the sister's story.
The book is very inclusive and diverse, it includes children from different cultures and some with disabilities, which was lovely to see and is representative of most schools today. The book is highly illustrated with colourful drawings that show Faizah and her friends showing kindness to others. Some are full-page, others are just small drawings in-between the text.
Overall, this is an adorable book that teaches kindness and I love how Faizah wanted to be just like her sister at the end of the story for their school family photo and that she was helped by her classmates to match her.
---
Purchase Online:
Ibtihaj Muhammad
Ibtihaj Muhammad is a fencer and the first Muslim American woman in hijab to compete and to win a medal for the United States in the Olympic Games. An activist, speaker and entrepreneur, Ibtihaj has written a memoir, Proud, and inspired the first hijabi Barbie in her likeness. Her first picture book, The Proudest Blue, was an instant New York Times bestseller.
S. K. Ali is the award-winning author of Saints and Misfits and Love from A to Z and the coeditor of an upcoming Eid anthology. She and her sister visited hijab shops every year before the first day of school to choose their proudest colours.
Author Links:
---
The above links are affiliate links. I receive a very small percentage from each item you purchase via these links, which is at no extra cost to you. If you are thinking about purchasing the book, please think about using one of the links. All money received goes back into the blog and helps to keep it running. Thank you.