Be Happy! by Maddy Bard – Book Review
Be Happy! by Maddy Bard – Book Review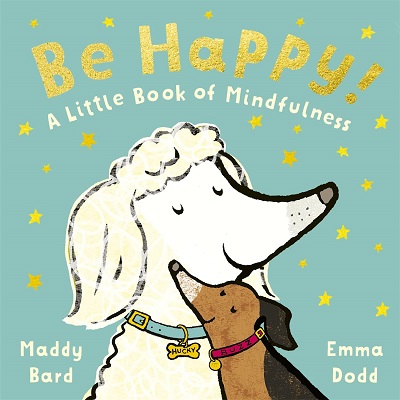 Be Happy!
A Little Book of Mindfulness
Author – Maddy Bard
Illustrator – Emma Dodd
Publisher – Templar Publishing
Release Date – 13th April 2023
Pages – 24
ISBN 13 – 978-1800783744
Format – Hardcover
Star Rating – 4
I received a free copy of this book.
This post contains affiliate links.

Synopsis
Filled with pearls of wisdom and positivity originally written during lockdown, this heartwarming story is told by the creators' two adorable dogs, Hucky and Buzz.
The thoughts expressed by Hucky and Buzz reflect the emotions, moods and feelings which will resonate with every young child. In this deceptively simple book Maddy Bard, a mindfulness and meditation coach, shares her tips on boosting confidence, positivity and self-belief. Featuring the creators' own adorable dogs, and brought to life with Emma Dodd's enchanting illustrations, Hucky and Buzz is a little gem of a book – a doggy handbook for a healthy and happy life.
This beautiful book with shiny foil pages is the perfect gift and ideal for readers of The Colour Monster, Happy: A Child's Book of Mindfulness and Tom Percival's Big Bright Feelings series.
For the last few years, adults have been told we need to be more mindful, especially in this fast-paced, technologically advanced world where there currently is a cost of living crisis. However, lately, the focus has been on children and helping them be more mindful and this book would be perfect for those new to this.
The book showcases two friends who are both dogs, Hucky and Buzz and how they are mindful in their day. From Being Happy to being kind, this book teaches children how to live in the moment, stop and notice the little things around them, and take care of themselves and others.
Be Happy! is smaller than the average picture book and square in shape. It contains beautiful words that will help bring peace and love to the reader. Alongside the words are colourful and bright illustrations that feature Hucky and Buzz as they find lots of ways to enjoy their day.
Overall, this is a lovely book that would be perfect for a child that is maybe anxious or nervous or needs to be more mindful. I would say it was for younger children though maybe between 4-7.
---
Purchase Online:
Maddy Bard
Maddy Bard is an athletic coach and holistic practitioner. Her belief in the benefits of mindfulness meditation practices for children's mental health comes from her experience mentoring in schools. She is delighted to share these in her first book for children. Maddy lives with her husband and four children in Surrey, England.
Author Links:
---
The above links are affiliate links. I receive a very small percentage from each item you purchase via these links, which is at no extra cost to you. If you are thinking about purchasing the book, please think about using one of the links. All money received goes back into the blog and helps to keep it running. Thank you.