The Prince and the Witch and the Thief and the Bears by Alastair Chisholm – Book Review
The Prince and the Witch and the Thief and the Bears by Alastair Chisholm – Book Review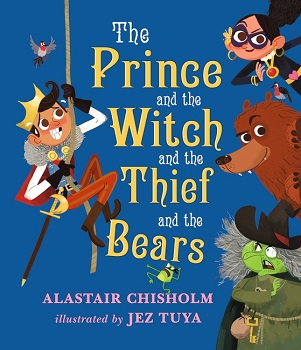 The Prince and the Witch and the Thief and the Bears
Author – Alastair Chisholm
Publisher – Walker Books
Pages – 40
Released – 2nd May 2019
ISBN-13 – 978-1406383058
Format – paperback, hardcover
Reviewer – Stacey
Rating – 4 Stars
I received a free copy of this book.
This post contains affiliate links.
An action-packed storytelling adventure that flips the traditional fairy tale on its head.
When it's time for Jamie's bedtime story, his dad begins to tell an age-old fairy tale about a prince in a faraway land full of dragons, wolves and princesses in distress. Inquisitive Jamie can't help but add to his dad's story, and the prince is soon joined by an evil-eyed witch who turns people to jelly, a broccoli-wielding ninja frog and a jewel-thief, lock picking princess.
It may not be the story Dad set out to tell, but together, he and Jamie create something much more energetic and hilarious than they could have alone.

One night Jamie asks his dad for a bedtime story, but he doesn't want one read from a book though he wants his dad to use his imagination and make the story up. It must feature a prince, a witch, and some bears. His dad soon comes up with an idea but as he begins to tell Jamie his story Jamie keeps on interrupting him and asking questions, thus making the plot keep on changing.
This is a fantastic book about a father and his son sharing a bedtime story and also how imaginative his father is to come up with a brilliant, yet unusual story.
The plot actually reminded me of the movie 'The Princess Bride' where the granddad is reading to his sick grandson and the grandson keeps on disturbing the story and asking questions and wanting his granddad to change parts.
It was so lovely to watch Jamie go through different emotions as his dad made his story up and then to see him not impressed with parts and wanting them changed, such as why is it always the princess that needs saving, why can't the prince need saving!
I adored The Prince and the Witch and the Thief and the Bears and I can see children loving the plot and the full-page colourful illustrations that bring Jamie's dads story to life. Just be ready for your children to want you to make a story up too.
Book Reviewer – Stacey
---
Purchase online from:
---
About the Author

I'm a children's writer and a puzzle creator. As a puzzle creator I wrote quite a lot of books of Sudoku, Kakuro and other puzzles, including the successful Kids' Book of Sudoku and Kids' Book of Kakuro series. These days I'm the author of the children's picture book The Prince and the Witch and the Thief and the Bears from Walker Books.
I live in Edinburgh with my wife (who is lovely), two children (who are lovely but very loud), and a cat who is yowling at me even though there is clearly food in her bowl, look, it's right there, look.



---
Share your thoughts in the comment section below!
---
The above links are affiliate links. I receive a very small percentage from each item you purchase via these link, which is at no extra cost to you. If you are thinking about purchasing the book, please think about using one of the links. All money received goes back into the blog and helps to keep it running. Thank you.