Girls on Tour by Nicole Doherty – Book Review
Girls on Tour by Nicole Doherty – Book Review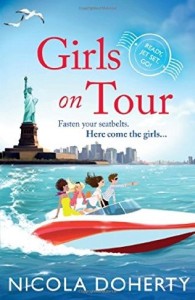 Girls on Tour
Author – Nicola Doherty
Publisher – Headline Publishing Group
Page – 354
Release Date – 23rd April 2015
Format – ebook, paperback, audio
Reviewer – Stacey
Rating – 5 Stars
I received a free copy of this book
Contains Affiliate Links

Four girls. One year.
Five fabulous destinations.
Poppy is bound for Paris, the City of Love. Could this be her chance to end her epic dry spell?
Lily is en route to her cousin's wedding in LA, where she's willing to break a few rules to land her dream role.
Maggie can't wait for her romantic ski holiday in Meribel – until it goes seriously off-piste.
Rachel packs for a glamorous Roman holiday, but a blast from the past is about to sabotage la dolce vita.
The girls get together and fly to Manhattan. But someone's been hiding a big secret in the Big Apple…
Hilarious, romantic and unputdownable, Girls on Tour is an irresistible series of interlinked stories about four ordinary girls who have extraordinary fun in faraway places. Follow them in an unforgettable year that includes breaking up, making up, new jobs and some big surprises …

Meet Poppy, Lily, Maggie and Rachel. Over the course of one year, their lives will change forever as they encounter situations they hadn't been expecting and travel to many beautiful countries, whilst finding out what true friendship is all about.
Girls on Tour, has previously been published in five separate e-novellas, but has now been put together in novel form, with added material.
I haven't read the e-novellas, so I was completely new to the story of the four girls. This book is everything a chick lit should be, from love, drama, fun, sexy men and friendships.
We meet the girls separately, so this gives us a chance to delve completely into their lives, to learn about their pasts and follow them in the present.
The book starts with Poppy, a gorgeous 29 year old, who is going through a dry spell in her love life, that dry that she's trying internet dating. She is a literary agent and travels to Paris to sign up author Jonathan Wilder, travelling with her annoying and childish colleague, Charlie. Surely in the capital of love, Poppy can end her dry spell.
The book then follows Lily as she travels to LA to attend her cousin Alice's wedding, Maggie as she jets off to Meribel with her boyfriend Leo and his friend's skiing, and Rachel, who after her boyfriend has to work over Valentines weekend, travels with Maggie and Lily to Rome.
The girls are fantastic! They have very different personalities, looks, jobs and lifestyles. However they work and fit well together. I felt like I was reading the biographies of real people as the girls are so life-like and realistic, and their persona's have the story jumping off the page.
I can't say that I have a favourite girl as I loved all of them equally, and enjoyed getting to know each of them individually.
Nicola's style of writing makes the words flow, and her vivid descriptions not only make you able to visualise the scenes perfectly and feel like you're actually there, but will have you wanting to visit all of the destinations that they travelled to.
There are plenty of twists in the story, especially towards the end. I found the book captivating and hard to put down. I loved all of the hilarious situations, and the laugh out loud moments, that filled the pages, keeping me entertained throughout.
This book is perfect holiday reading material, with a gorgeous cover to compliment the story.
Reviewed by Stacey
Purchase Links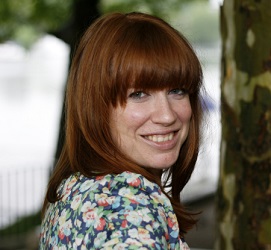 Hi, I'm Nicola. I cannot write funny bios.
I grew up in Monkstown, Co. Dublin and studied English at Trinity College, Dublin and at Hertford College, Oxford. I worked in publishing for several years before writing my first book The Out of Office Girl, which was shortlisted for the RNA Romantic Novel of the Year 2013 in the Romantic Comedy category.
If I Could Turn Back Time and Girls on Tour are both out now from Headline, and my first young adult romance, Love and Other Man-Made Disasters, is due out in June 2016 from Orion. My books have been translated into Italian, French, German, Polish and (soon) Turkish.
I like cooking, running, watching make-up lessons on YouTube, New York, California, Friday Night Lights and Stila eyeliner. I live in Highbury, North London, with my husband and no cats (yet).
Author Links