The Ripper of Whitechapel by Yvette Fielding – Book Review
The Ripper of Whitechapel by Yvette Fielding – Book Review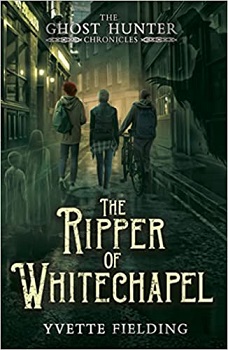 The Ripper of Whitechapel
Ghost Hunter Chronicles Book Two
Author – Yvette Fielding
Publisher – Andersen Press
Release Date – 29th September 2022
Pages – 256
ISBN 13 – 978-1839132148
Format – ebook, paperback, audio
Star Rating – 4
I received a free copy of this book.
This post contains affiliate links.

Synopsis
When the ghosts of two young children start to haunt a local school, trainee ghost hunters Eve, Clovis and Tom are invited to help investigate the case. But before long they realise there is more to this haunting than they first realised.
Could it be that the ghost children are victims of Jack the Ripper? And is the evil Ripper of Whitechapel about to unleash a new campaign of terror from beyond the grave?
The Ripper of Whitechapel is the second book in The Ghosthunter Chronicles with the first being The House in the Woods which was released last year.
The books follow three friends Clovis, Eve, and Tom, plus Eve's scientist uncle Rufus who are searching for a link between the afterlife and the living. After the goings on in book one, the three friends haven't witnessed any more paranormal activity, that is until they are invited into a secret society and asked to investigate scenes at a local school where it would seem not only are there ghostly children running scared but Jack the Ripper is making an appearance too.
Just like the first book, this one holds nothing back in terms of frightening moments, so if you are not good with scary moments, or are thinking about buying this for nervous children then I would probably think again.
Whilst I loved the paranormal aspect of the book and the friendships the children have, especially how they are there for one another when family matters arise, I found once the initial scary opening scene had passed the book seemed to slow right down and it took quite a while for anything more to occur and I did get a little bored.
However, once the children became involved in the 'Ripper' investigation the pace quickened again and my interest peaked, especially as I have an interest in all things Jack the Ripper.
Overall, if you have a child that loves scary books and is looking for something more intriguing and edgy then this series is definitely one to pick up. A riveting read and I now can't wait for another in the series.
---
Purchase Online:
Yvette Fielding
Yvette Fielding was the youngest ever Blue Peter presenter at age 18, and she's since gone on to host and produce Ghosthunting With… and Most Haunted. After years of studying ghosts, she's become television's 'first lady' of the paranormal. She lives with her husband and two children in Cheshire.
Author Links:
---
The above links are affiliate links. I receive a very small percentage from each item you purchase via these links, which is at no extra cost to you. If you are thinking about purchasing the book, please think about using one of the links. All money received goes back into the blog and helps to keep it running. Thank you.