Apples Never Fall by Liane Moriarty – Book Review
Apples Never Fall by Liane Moriarty – Book Review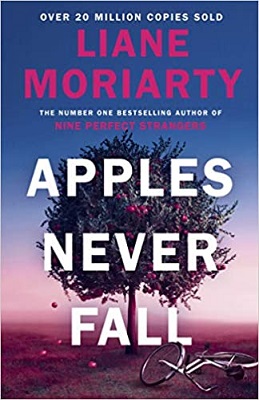 Apples Never Fall
Author – Liane Moriarty
Publisher – Michael Joseph
Release Date – 14th September 2021
Pages – 496
ISBN 13 – 978-0241396087
Format – ebook, paperback, hardcover, audio
Star Rating – 5
I received a free copy of this book.
This post contains affiliate links.

Synopsis
The Delaney family love one another dearly – it's just that sometimes they want to murder each other . . .
Joy Delaney and husband Stan have done well. Four wonderful grown-up children. A family business to envy. The golden years of retirement ahead of them.
So when Joy Delaney vanishes – no note, no calls, her bike missing – it's natural that tongues will wag.
How did Stan scratch his face? And who was the stranger who entered and suddenly left their lives? What are they all hiding?
But for the Delaney children there is a much more terrifying question: did they ever know their parents at all?
Apples Never Fall begins with the four Delaney siblings discussing their missing mother. The dilemma is whether to report her missing to the police as she had been arguing with their father just before she disappeared and would the police suspect their father of doing something to her?
The book switches between last September and the present time. Last September was a big change to all their lives when a strange girl turned up on their parent's doorstep. She was battered and bruised and they took her in.
I enjoyed the way the book was set in a dual timeline which made the story become an absolute page-turner for me and I struggle to put it down.
The was a good breakdown of all the characters which gave me a clear picture of their different behaviours, mannerisms, etc. I didn't have a favourite character, although I'm not sure if I liked or disliked Savannah.
I adored the way the last few chapters were written with an explanation of all the goings-on throughout the book which meant that it wasn't left on a cliff-hanger.
There are sad and tense moments but also plenty of humour within too. This was a really, really good storyline. I loved the way author Liane Moriarty writes. I can highly recommend this book to all thriller lovers as it was so well written and a brilliant read. I've already started to read another book by Liane Moriarty too.
---
Purchase Online:
Liane Moriarty

Liane Moriarty is the Australian author of eight internationally best-selling novels: Three Wishes, The Last Anniversary, What Alice Forgot, The Hypnotist's Love Story, Nine Perfect Strangers and the number one New York Times bestsellers: The Husband's Secret, Big Little Lies and Truly Madly Guilty. Her books have been translated into over forty languages and sold more than 20 million copies.
Big Little Lies and Truly Madly Guilty both debuted at number one on the New York Times bestseller list – the first time this was ever achieved by an Australian author. Big Little Lies was adapted into a multiple award-winning HBO series with a star-studded cast including Nicole Kidman and Reese Witherspoon.
Liane lives in Sydney, Australia, together with her husband, son and daughter.
Author Links:
---
The above links are affiliate links. I receive a very small percentage from each item you purchase via these links, which is at no extra cost to you. If you are thinking about purchasing the book, please think about using one of the links. All money received goes back into the blog and helps to keep it running. Thank you.