Always on my Mind by Andrea Downing – Book Review
Always on my Mind by Andrea Downing – Book Review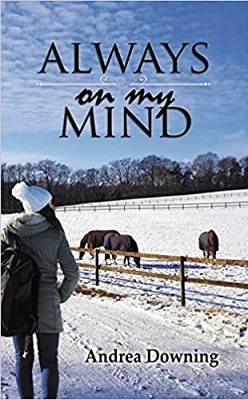 Always on my Mind
Author – Andrea Downing
Publisher – The Wild Rose Press
Pages – 250
Released – 19th February 2020
ISBN-13 – 978-1509229680
Format – ebook, paperback
Review by – Ed
Rating – 3.5 Stars
I received a free copy of this book.
This post contains affiliate links.


1972 – Vietnam, the pill, upheaval, hippies. Wyoming rancher Cooper Byrnes, deeply attached to the land and his way of life, surprises everyone when he falls for vagabond hippie Cassie Halliday. Fascinated and baffled, he cannot comprehend his attraction-or say the words she wants to hear.
Cassie finds Coop intriguingly different. As she keeps house for him and warms his bed at night, she admits to herself she loves him but she misinterprets Coop's inability to express his feelings. Parted, each continues to think of the other, but how can either of them reach out to say, "You were 'always on my mind'?"

Andrea Downing's novel Always on My Mind starts in a country/western bar in Jackson Hole, Wyoming in May of 1972 where a ruggedly handsome rancher, Cooper Byrnes, becomes infatuated with a hippie girl who is obviously just passing through town with her friends. To Cooper, the girl is other worldly. He was first mesmerized by multiple little mirrors surrounded by embroideries that covered her blouse, her auburn hair with little feathers in it, frayed bell-bottom jeans with bleached out spots and tatters in the knees, and leather sandals. Cooper's long time rodeo friend, Ty, warned him that she wasn't his type, but admitted that she might be fun for a night.
Cassie Halliday noticed that the handsome cowboy was mesmerized by her. She had embarked on this cross-country trip to meet people who were different from her upbringing in Boston. She couldn't imagine anyone more different than the handsome cowboy with his Stetson hat, snapper-button shirt, string tie, pressed jeans, and cowboy boots. He was a sight—a very pleasant sight. She was thrilled when he approached with his muscular friend. Her hippie friends made the mistake of calling the two cowboys hicks. Ty responded immediately to the insult by throwing a punch. Her handsome cowboy grabbed her hand and led her outside—away from the fray.
After the brawl was over, her cowboy named Cooper led her back into the bar, his big rough hand holding hers. They danced. And then she realized that her friends were not coming back into the bar to retrieve her. She was abandoned in the middle of nowhere. Her cowboy offered her a bed in the guest room in his ranch house for the night. Naturally, she worried what he was drawing her into—what he hoped to force on her. But because of his calm demeanor, and his soft spoken offer, she did not fear his motives, and went to bed alone in his guest room.
I won't disclose more about what happened next in this review. But this mismatched romance was perfectly set up, and became more and more entertaining because of their cultural differences. He was a cow rancher and beef was his staple food. She was a vegetarian. They had nothing in common except for their attraction to each other. They were both strong-willed people. He is presented as uncompromisingly set in his ways. She is a bit of an airhead. I became hooked as I think most readers will.
The novel is beautifully written with a very organized plot that is easy to follow and expertly edited. It expressed tension, uncertainty, feelings of inadequacy and incompatibility. And all of those emotions had an unexpressed, underlying, deep developing love. I thoroughly enjoyed it. Most enthusiastic romantic reviewers would probably give it a four star rating, despite its lack of life threatening peril which would have been easy to introduce on a ranch in Wyoming.
I have to admit my bias. I spent almost two years in Wyoming including two long winters that were life threatening with temperatures often ten to thirty degrees below zero Fahrenheit with winds rarely dropping below twenty miles per hour. The author missed an excellent opportunity to create a life-threatening scene for a girl from Boston who didn't have a clue how to survive in such a dangerous isolated environment. For missed opportunities at creating more exciting action, I regret lowering my rating to three and one half stars. I do highly recommend it for romantic novel enthusiasts.
Book Reviewer – Ed
---
Purchase online from:
---
About the Author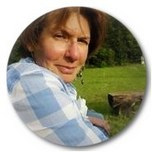 A native New Yorker, Andrea Downing currently divides her time between the canyons of city streets and the wide-open spaces of Wyoming. Her background in publishing and English Language teaching has transferred into fiction writing, and her love of horses, ranches, rodeo, and just about anything else western, is reflected in her award-winning historical and contemporary western romances.
She has been a finalist in the RONE Awards for Best American Historical Romance twice, placed in the International Digital Awards twice, and won 'Favorite Hero' along with Honorable Mentions for Favorite Heroine, Short Story and Novel in the Maple Leaf Awards. Her book, Dearest Darling, has also won The Golden Quill Award for Best Novella and been on the short list for winning The Chanticleer Award for Best Short or Novella.



---
What did you think of Always on my Mind? Share your thoughts in the comment section below!
---
The above links are affiliate links. I receive a very small percentage from each item you purchase via these link, which is at no extra cost to you. If you are thinking about purchasing the book, please think about using one of the links. All money received goes back into the blog and helps to keep it running. Thank you.
Like us on Facebook – Tweet us on Twitter – Pin us on Pinterest