The Piano Raft by Sara Alexi – Book Review
The Piano Raft by Sara Alexi – Book Review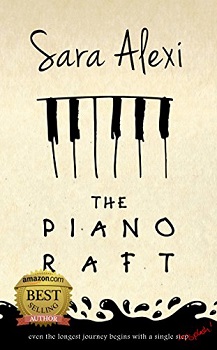 The Piano Raft
Author – Sara Alexi
Pages – 388
Release Date – 23rd January 2017
ISBN-13 – 978-1520439778
Format – ebook, paperback
Reviewer – Marcia
I received a free copy of this book
Post Contains Affiliate Links

Neil, a disillusioned art student, wakes to find himself drifting down a canal on a raft, accompanied by a small fluffy dog, to the sound of his girlfriend's piano being played by a stranger. Through the fog of his hangover, he tries to piece together the events of the night before which brought him to this curious and unexpected situation, and to work out what on earth to do next.
The current is carrying him swiftly on towards the capital, where Kim, the piano's owner, has recently started a new life. As Neil's journey continues, and whilst trying to conjure the courage to win Kim back, his story captures the hearts and imaginations of the country as locals in the towns he passes and national media alike follow this unlikely hero on his equally unlikely adventure.
How will these extraordinary circumstances challenge and change a man whose life has been stuck in first gear, and who now needs to decide how far he will go for the woman he loves? The current is swift, and there's no turning back…

The Piano Raft opens with the scene of Neil, the main character, waking up in a daze, trying to figure out where he is, and what he did the night before. When he eventually manages to open his eyes, he discovers, to his surprise, that he is on a raft floating along a canal, with his newly ex girlfriends piano, and a small fluffy dog.
His ex, Kimberly, left him to start a new life in London, something that they were supposed to do together. Deciding that Neil wasn't fully committed to her, or the move, she left to start her new life alone.
Neil, encouraged by his good friend Sleet, decides to take Kimberley's piano to her in London. The Journey gives Neil the time for self reflection to decide what kind of adult he wants to be. Throughout his journey he makes some good friends, and gains lots of confidence too.
I like stories of self discovery. The Piano Raft, is the perfect example of what this phrase actually means. You get to meet a man so distraught over the break up of his relationship, that he comes up with a unique, slightly strange way to not only give her, her piano back, but possibly win over her love again too.
You are a witness to how, with some time to reflect, and the love of strangers, how one person can actually change their ways and become a better, more rounded human.
The Piano Raft was engaging, and I didn't want to put it down. It was like reading a self-help book, but in a fictional, engrossing manner. Sara knows how to capture an audience and hold them to the pages. I really did enjoy this book, and would award it four stars.
Book reviewed by Marcia
Purchase Links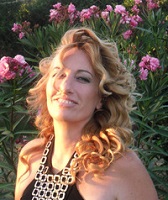 Best selling author Sara Alexi was born in Oxford, England. After travelling widely she now splits her time between England and a tiny rural village in the Peloponnese, in Greece, where she has renovated a stone farmhouse, whilst observing the Greek way of life and absorbing the culture.
As a qualified as a psychotherapist Sara ran her own practice for years. Her artistic nature was, during that time, confined to painting and she exhibited widely. Her move to Greece was the catalyst that began her writing.
Her 'Greek Village Series' has been very well received and provides a keenly observed, compassionate insight into the Greek people and culture, and the human condition in general.
Author Links