Remember Me by Lynda Renham – Book Review
Remember Me by Lynda Renham – Book Review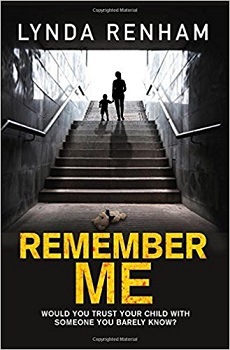 Remember Me
Author – Lynda Renham
Publisher – Raucous Publishing
Pages – 310
Release Date – 10th April 2017
ISBN-13 – 978-0993402685
Format – ebook, paperback
Reviewer – Stacey
I received a free copy of this book
Contains Affiliate Links

A new neighbour becomes a new friend. She looks up to you. She admires you, but is it you she wants? You begin to wonder if she wants your husband, or even your child. But then you realise, she wants your life.
When Sharni and Tom move into 24 The Pines, it seems like Clare and Chris have the perfect neighbours. Sharni is always there to help, especially with childcare for Clare's two-year-old, Ben. But Clare can't shake off the feelings of anxiety that assail her whenever Sharni is near.
Is Clare just being overprotective, or are her feelings justified? As Sharni's influence touches everyone around her, Clare finds herself fighting for her sanity as well her family.

Clare, Chris, and their two-year-old son Ben, lived a quiet life. That was until Sharni and Tom moved in next door. The couple are a bit 'full on', and go out of their way to get to know their neighbours, with Clare being the main target of attention from Sharni.
Clare keeps on getting a niggling feeling about Sharni, but then starts to doubt herself, blaming the amount of prescription medication she takes, clouding her thoughts, medication that she can't get through the day without.
Over the coming weeks Sharni imposes herself more and more on Clare, Chris, and Ben, even offering her baby-sitting services when Clare is given more hours at work.
Clare's niggly feelings come to the forefront when Sharni tries it on with her husband Chris, leading to Clare trying to distance herself from her. But has Sharni really managed to infiltrate Clare's life, or is it Clare that is the one who is unhinged?
I've read nearly every book by Lynda Renham. I love that laugh-out-loud, feel good factor that they give you, so when I heard Lynda had written a psychological thriller, I was a little apprehensive of whether someone who writes chick-lit for a living, could turn her hand to such an 'on the edge of your seat' genre. The easy answer is; Yes!
The book will have you caught up in the lives of Clare and Sharni. At the start you get the sense that Sharni is the unhinged one of the two. Well this is a woman who basically wants to be Clare. Styling her home like Clare's, dressing like her, and taking an unhealthy interest in her son. But as the story progresses, and you get to know Clare more, you start to doubt yourself, especially when you get to read Sharni's point of view about Clare.
Alongside the plot there are pages with a woman visiting a psychiatrist, talking about her past, and feelings. You are kept guessing as to which woman is having the therapy.
Remember Me is filled with twists, turns and plenty of 'red herrings'. It will have you in suspense until the very end, keeping you on the edge of your seat. Be warned, this book may just have you wary of getting to know your neighbours! Fantastic job Ms. Renham, just fantastic!
Book reviewed by Stacey
Purchase Links


Lynda Renham is famous for her romantic comedy novels. She has been called A Comedian in a Book, Chicklit Royalty and A Comic Genius.
Her writing style has been likened to Sophie Kinsella but is refreshingly down to earth with characters that become your friends. Lynda is a prolific writer, blogger and when not writing can usually be found wasting her time on Facebook.
Lynda lives in Oxfordshire with her second husband and cat.
Have a read of our interview – 'The Writing Life of: Lynda Renham'