The Writing Life of: Alison Brodie
Alison Brodie
This week on 'The Writing Life of:' I am thrilled to be interviewing author Alison Brodie. Alison will be sharing with us detail of her writing life, telling us all about her latest book Brake Failure, which was released on 9th January 2016, and answering a few fun questions too.
So without further ado I'll hand you over to Alison. Post contains affiliate links.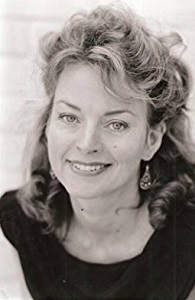 Alison Brodie is a Scot, with French Huguenot ancestors on her mother's side. Alison was a photographic model for a wide range of products, such as Ducatti motorbikes and 7Up. She was also the vampire in the Schweppes commercial.
A disastrous modelling assignment in the Scottish Highlands gave Alison an idea for her first romance novel, Face to Face. It was taken up by Dinah Wiener, the first agent Alison sent it to. Three weeks later, Alison signed a two-book deal with Hodder & Stoughton. Subsequently, Face to Face was published in English, German and Dutch. "Vain, but wildly funny leading lady." -Scottish Daily Mail. It was also chosen as Good Housekeeping's "Pick of the Paperbacks."
Unfortunately, Alison then suffered from Second-Book Syndrome. The publisher's deadline loomed but Alison couldn't think of a story! She found the whole experience a nightmare; and this is why she cautions first-time authors not to sign a multi-book deal unless they are prepared!
Alison lived in Kansas for two years. She loved the people, their friendliness, the history and the BBQs! Now, she lives in Biarritz, France with her rescue mutt, Bayley.
---
1) As a child what did you want to do when you grew up?
Be a mermaid.
2) Who were your favourite childhood authors?
Hans Christian Andersen, who wrote The Little Mermaid.
3) At what point in your life did you realise you wanted to be a writer?
I started writing stories as soon as I could write. But it wasn't until I was twenty – on a modelling assignment in the Highlands of Scotland – that a story came to me and I couldn't write the manuscript quick enough.
4) How did you go about following that dream?
I entitled the ms Face to Face and sent it off to the literary agent, Dinah Wiener, who got me a two-book deal with Hodder.
5) What is your writing day like? Do you aim for a certain amount of pages or words before you stop for the day?
I never count the words I do. I never set a goal that I have to reach. I write when the muse grabs me, sucks me in then spits me out.
6) Did you ever consider writing under a pseudonym?
No.
7) Do you have any strange habits before starting, or whilst in the midst of writing?
No.
8) Do you write longhand, typewriter, or on a computer?
I do scribbles at the start, on bits of paper wherever I am – in a bar, restaurant – which I keep together until I am ready to write the bare bones of the story. I write this with a pen, fast and furious. Then I edit with a computer.
9) How many books have you written? Do you have any unpublished work?
Ten. Two have been published by Hodder in paperback and hardback. Three have been published on KDP. I have five more, two are totally finished, the rest need work on, and the tenth is actually a book of short stories.
10) Are you a plotter or a pantser?
Both.
11) Do you read all the reviews left for your book(s)?
I read all my reviews. The five-stars I get outweigh any negativity, which luckily I haven't had for these last three books.
Concerning your latest book: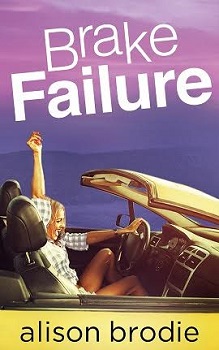 Brake Failure
Author – Alison Brodie
Publisher – Clipboard Press
Pages – 295
Release Date – 9th January 2016
Format – ebook

"Is it too late to tell him you love him when you are looking down the barrel of his gun?"
An English debutante transforms from Miss-Perfectly-Correct to criminally insane as she breaks the bonds of her rigid upbringing. Sheriff Hank Gephart tries to reel her in – but she's out of control and she's not hitting the brakes.
What happened to the genteel lady in twin-set and pearls? And why did she shoot Mr Right?
Brake Failure is set in 1999 in the months leading up to Y2K "meltdown" when the US government was spending $150 billion preparing for Armageddon As Lionel Shriver says in her novel, We Have To Talk About Kevin: "1999, a year widely mooted beforehand as the end of the world."

12) How long did it take you to get from the idea's stage to your date of publication?
Brake Failure is my latest release. It is set in Kansas City in the months leading up to Y2K "meltdown". I was there at the time, I lived the story – 98% of the story is true. I saw a copy of the Kansas City Star on 2 Jan, 2000, and a seed was planted. But I didn't start the story until many years later.
13) How did you come up with the names for your characters?
The Kansas City Star.
14) Can you give us an insight into your main character(s) life?, What makes them tick?
Having been deserted by her mother, Ruby craves love. This means that when her stepmother moulds her to be the wife of a duke, Ruby obediently obeys.
15) Which was your hardest scene to write?
The second and third page.
16) How did you come up with the title of your book?
It took me months to think of a title. Brake Failure I thought said it all: In Kansas, Ruby escapes from her rigid life back in England, breaks from her emotional straight jacket and heads full pelt to freedom – and when she comes to slow down and take stock of the maniac who has suddenly taken the steering wheel of her life, it is too late. The brakes don't work.
17) Did you get a family member/friend to read your work before sending to the publishers?
A friend read Brake Failure and said it was brilliant.
18) What process did you go through to get your book published?
I am now an indie author, who publishes with KDP
19) What did you do once you had written the final word in your book?
There is no such thing with an e-book. I go back and improve and improve. I feel, though, that Brake Failure is 99% how I want it. Wild Life is 100 %. The Double is 80% how I want it, and I will go back and work on it this month.
20) What's next for you, writing-wise?
Zenka. A Romanian pole-dancer is saved from slavery by a grumpy London gangland boss and decides to become his guardian angel – whether he want it or not.
1) What's your favourite food?
Prawn Vindaloo
2) If you had a box of crayons and you could only choose one, which colour would you choose?
Turquoise
3) What movie could you watch over and over again?
Overboard with Goldie Hawn.
4) What would be the top song on your playlist?
"Fire" by Kasabian
5) If you won millions, what would be your first purchase?
A dog sanctuary here in France, where I will treat the dogs humanely and give them meadows to run free and a river to splash in. I would also use the money to highlight to the French that they can't just kick their dogs out in the street when they go on holiday, or dump a puppy in a ditch.
6) A talking duck walks into your room wearing a baseball cap and sunglasses, what's the first thing he says to you?
"I saw your ad."
You can find out more about Alison by visiting the website/social media sites below.
www.alisonbrodiebooks.com
@alisonbrodie2
Facebook
Pinterest
Goodreads
I would like to say a big thank you to Alison for sharing with us details of her writing life, and for a wonderful interview.