No, Nancy, No! by Alice Tait – Book Review
No, Nancy, No! by Alice Tait – Book Review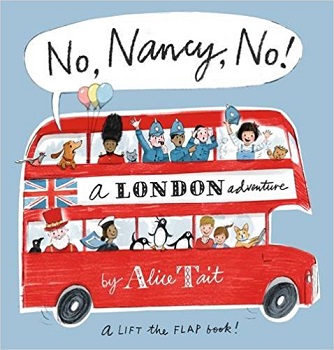 No, Nancy, No!
Author – Alice Tait
Publisher – Walker Books
Pages – 24
Release Date – 4th May 2017
ISBN-13 – 978-1406363203
Format – paperback, hardcover
Reviewer – Stacey
I received a free copy of this book
Post Contains Affiliate Links

From Alice Tait, illustrator of the iconic London Map print range, comes a stylish, action-packed lift-the-flap book – the perfect introduction to the capital city for first-time sightseers!
Blending her joyful London scapes with the story of a mischievous little girl, Nancy, and her long-suffering dachshund, Roger, Alice creates a wild and calamitous chase by boat, bus and bike across all of London's most famous and best sights – from Buckingham Palace to the Tower of London.
With over fifteen flaps throughout, an incredible pop-up Nelson's column and a fold-out map, young readers will delight in this interactive adventure, and will love joining in with Roger's catchy refrain: "NO, NANCY, NO!"

No, Nancy, No! is a 'lift the flaps' book. Nancy and her dog, Roger, are visiting the sights in London for the day. Whilst standing outside Buckingham Palace, they notice a little girl drop her teddy bear. Nancy and Roger decide to find the girl and give it her back, but London is enormous.
Whilst trying to find the girl, they end up going on a bus ride, seeing Nelsons Column, looking around the Natural History Museum, and many more places. Though it would be a lot easier to find the little girl if Nancy would behave herself.
The book had me torn. The plot, and how the author has incorporated lots of places to see in London is superb, and this would make a great book for any children who will be visiting London. The illustrations are bright and bold. They cover the whole book, and are beautifully drawn. There is only one sentence per page, which makes it for easy reading. And with the flaps to lift, this book will be a hit with the kids.
The children will also find it very amusing, especially the things that Nancy does, which are sometimes very naughty. Plus her dog, Roger keeps on telling her 'No, Nancy, No, each time she does something wrong.
However, it was some of the things that Nancy did that had me puzzled, but kids will love and find hilarious. She painted a dragon on the side of a Double Decker bus, slid down a slide in the penguin enclosure at the zoo, and ran away from the tower of London wearing the Queens crown. Plus many more naughty things
A lovely book, and one that will keep children engaged and have them discovering a lot about what there is to see, and do, in London.
Book reviewed by Stacey
Purchase Links


Alice Tait is a prolific illustrator who produces bespoke artwork for clients worldwide. Alice has worked for Vogue, The Times, and Waitrose amongst others. Alice's drawings may well be found somewhere in your home already as she has illustrated for Jamie Oliver, Nigel Slater, Adrian Mole and many other well-loved book titles and magazines.
Author Links