Poor Louie by Tony Fucile – Book Review
Poor Louie by Tony Fucile – Book Review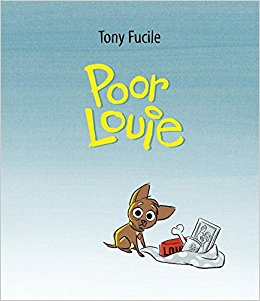 Poor Louie
Author – Tony Fucile
Publisher – Walker Books
Pages – 40
Release Date – 4th May 2017
ISBN-13 – 978-1406376715
Format – ebook, hardcover
Reviewer – Stacey
I received a free copy of this book
Post Contains Affiliate Links

From the illustrator of the Bink & Gollie series comes a funny, touching tale for big siblings.
Louie's life is great! A walk every morning, ice cream on Sundays, snuggling in bed at night with Mum and Dad. Even meeting up with Mum's friends – despite their little crawling creatures who pull Louie's ears – aren't all that bad.
But then things get weird – cold food on the floor, no room in the bed, and lots of new stuff coming into the house in pairs: two small beds, two little jumpers, a two-seated buggy. Does that bode double trouble ahead, or could there be a happier surprise in store for Louie?

Louie, the Chihuahua, loved being the centre of attention from his human mummy and daddy. He got taken for lots of walks, got to sleep in their bed, and even sit at the table with them for dinner. It was like he was a real boy, not a dog.
The his mummy's tummy began to grow, and he was no longer allowed to sleep in the bed, nor eat at the table with them. He soon realised that his mummy was going to have a baby. One of those creatures that pull his ears, and hurt him. Then the news got worse, there was not going to be just one, but two babies. Why else would his parents be buying two of everything, and a double buggy?
Louie didn't want to live in the same house as two babies, so one night he decided to run away. Poor Louie!
I loved this children's book. The story is told from Louie's point of view, as he tells you about his life, a life he did enjoy, but now his parents are having babies, he has started to feel sad, and that he is being pushed away, and replaced.
There is a lovely twist in the book, one I wonder whether children will see coming, and hopefully they will be surprised, and happy.
The illustrations are cartoony, with Louie being at the forefront of each of them. They are both colourful, and black and white. The full page drawing also perfectly depict Louie's moods.
A perfect book for any dog loving family. Although it is a children's book, it would make any adult who has a dog, and is now having a child, realise just how apprehensive dog may be feeling.
Book reviewed by Stacey
Purchase Links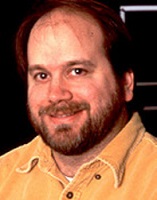 Tony Fucile has spent over twenty years designing and animating characters for cartoon feature films. During the first fifteen years, he put pencil to paper to help bring life to characters from The Little Mermaid, Aladdin, The Lion King, and The Iron Giant. And in the last six years, he put mouse to mouse pad for the Oscar-winning Finding Nemo and The Incredibles, for which he was a Supervising Animator.
Tony's first picture book for children, Let's Do Nothing!, was released by Candlewick Press in Spring 2009.
Tony was born in San Francisco and currently resides nearby with his wife, Stacey, their two kids, Eli and Elinor.
Author Links