Spirits of the Columbia by JJ Courchaine – Book Review
Spirits of the Columbia by JJ Courchaine – Book Review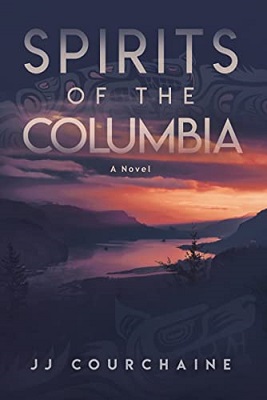 Spirits of the Columbia
Author – JJ Courchaine
Release Date – 14th December 2021
Pages – 288
ISBN 13 – 979-8465836593
Format – ebook, paperback
Star Rating – 4.5
I received a free copy of this book.
This post contains affiliate links.

Synopsis
After disappearing without a trace a decade earlier, Carter Kingston decides to make his return to the Pacific Northwest when he learns of his estranged father's suicide. Upon the rekindling of friendships he once thought were lost forever, along with his growing infatuation with a mysterious young bartender named Natalie, he begins to gain the closure he seeks.
But Carter is also burdened by a dark secret, one that continues to haunt him. As he struggles to battle his own demons, his seemingly carefree homecoming is thrown into disarray when he learns that those surrounding him carry secrets of their own.
In an effort to reconcile his past, Carter travels to the remote wilderness of the Kaniksu Reservation and the land of the Kulishan Tribe, to which his father belonged. When he uncovers a potentially dangerous opportunity, he is left with another decision to make.
Carter Kingston dropped off the radar years ago. But he returns home to Spokane, Washington after getting word of his estranged father's suicide. Carter isn't exactly broken up over his passing. Rudy Kingston was a violent recluse who lived in a remote area of the Kaniksu Reservation in north-eastern Washington. Carter had broken free of his influence long ago. Yet now, despite reuniting with old friends and—maybe—finding a new love, he can't seem to escape his past with his father.
A hidden note from the late but not-so-lamented Rudy hints that he hid a great deal of money in a remote spot on the Reservation. Carter and his friend Barker Kirby set out on a quest to recover the supposed treasure. But they soon find they're not alone and their quest turns into a brutal fight for their very survival.
Reading Spirits of the Columbia is somewhat like peeling an onion. Every chapter reveals a few more pieces of the puzzle that the reader puts together. The narration often changes its point of view with a new chapter. Far from being bothersome, though, the slow reveals and the shifting viewpoints encourage the reader to keep going.
The main protagonist, Carter Kingston, is developed to the point where readers can feel they know him. He's survived tough situations and been part of some shady activities, but he's essentially a good soul trying to do the right thing. On the other hand, his father's former associates are manifestly evil. It is difficult to read about their machinations without getting a little chill in your spine.
I liked Spirits of the Columbia for its unfolding story and suspenseful denouement. However, some scenes are graphic enough that sensitive or squeamish readers might find them distasteful. If some occasional blood and guts don't bother you, though, I think you will enjoy this book.
---
Purchase Online:
The above links are affiliate links. I receive a very small percentage from each item you purchase via these links, which is at no extra cost to you. If you are thinking about purchasing the book, please think about using one of the links. All money received goes back into the blog and helps to keep it running. Thank you.