Change of Heart by James Clifton – Book Review
Change of Heart by James Clifton – Book Review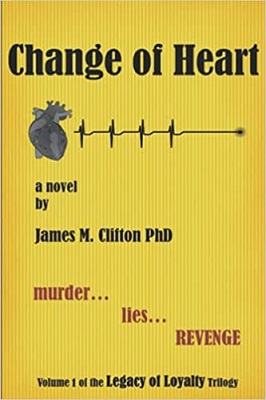 Change of Heart
Legacy of Loyalty Book One
Author – James Clifton
Pages – 266
Released – 18th July 2021
ISBN-13 – 979-8531068903
Format – ebook, paperback
Rating – 4 Stars
I received a free copy of this book.
This post contains affiliate links.


Synopsis
To what lengths would you go to ensure that your family can afford a good life? Would you commit a crime? Would you trade your life for their future? These are not academic questions for John Cooper. After losing his business and reaching the brink of bankruptcy, he decides that he's worth more dead than alive and attempts suicide so that his pregnant wife will have the insurance money.
Two thousand miles away, another man contemplates a different question. He's dying and needs a heart transplant. And he needs it soon. Where can he get the new heart that he so desperately needs?
What connects these two men is an extremely rare blood type, a type that only one-in-a-million share. John Cooper has the heart that Jimmie Regan needs. And, as one of the biggest drug lords in the world, Jimmie Regan has what John Cooper needs—lots of money.
At first, they come to an amicable arrangement, one where both get exactly what they want. But everything changes when John holds his newborn daughter for the first time. Unfortunately for John Cooper, Jimmie Regan is not the kind of man that accepts disappointment. What follows is a desperate chase across southern Mexico, a betrayal of a husband by his greedy wife, and an alliance of unlikely conspirators including Carlos and Lena Ramirez, the son and daughter of the man that Jimmie Regan murdered in order to seize his criminal empire.
Clifton has created a unique story concept of gangsters and fun action scenes which meant I couldn't wait to read this one. Such an unusual plot idea. A rare blood type, a man who needs money, and a mob boss very happy to pay that man for the use of his heart. Of course, the donor needs to die.
John Cooper is ready and willing to give up his life for the very large sum of money his family will receive upon his death. Easy right? Well, not so much. Bad things happen when you have a change of heart that involves a high-powered Mexican crime boss.
The story travels through areas of Mexico. Chases at sea, swamps, abandoned mansions – that was quite interesting.
I won't spoil things, but the scene with the pigs… eeew. Nasty and awesome.
I enjoyed the setup and the action of the first third of the book. Unfortunately, after that point, things seemed to get bogged down. The action became too detailed and the suspense went away. I found the pace too slow in the second half of the book. I gave the story execution 3.5 stars and rounded it up to 4 for the great plot idea, early action scenes, and clever surprises scattered throughout.
There are many characters and I see that books two and three will continue with these same characters.
Purchase Online From:
---
What did you think of 'Change of Heart'? Share your thoughts in the comment section below!
---
The above links are affiliate links. I receive a very small percentage from each item you purchase via these links, which is at no extra cost to you. If you are thinking about purchasing the book, please think about using one of the links. All money received goes back into the blog and helps to keep it running. Thank you.
Like us on Facebook – Tweet us on Twitter – Pin us on Pinterest – Join us on Instagram