Interview with Author Susan Pape
Susan Pape
I am thrilled to have interviewed author Susan Pape, who shared with us details of her writing life, her book 'A Falling Friend: The Downward Spiral of a Falling Friendship', which was released on 20th September 2021, and answered a few fun questions. This post contains affiliate links.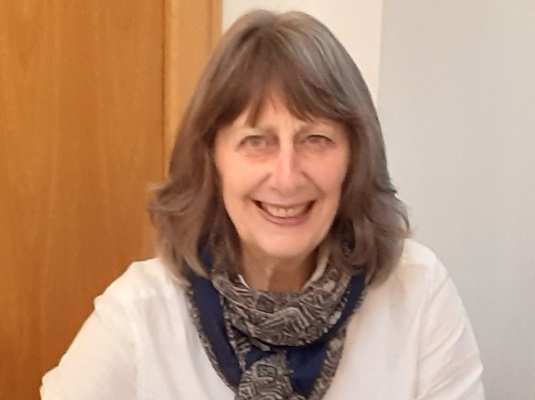 Susan Pape is an award-winning former journalist who worked for national and regional newspapers and magazines, before moving into higher education, teaching journalism at Leeds Trinity University.
With her co-author, Sue Featherstone, she wrote two successful journalism text books – Newspaper Journalism: A Practical Introduction and Feature Writing: A Practical Introduction (both published by Sage). Susan and Sue then wrote their debut novel, A Falling Friend, the first part of what became the Friends trilogy.
Susan is currently working on her fourth novel (which she is writing on her own this time).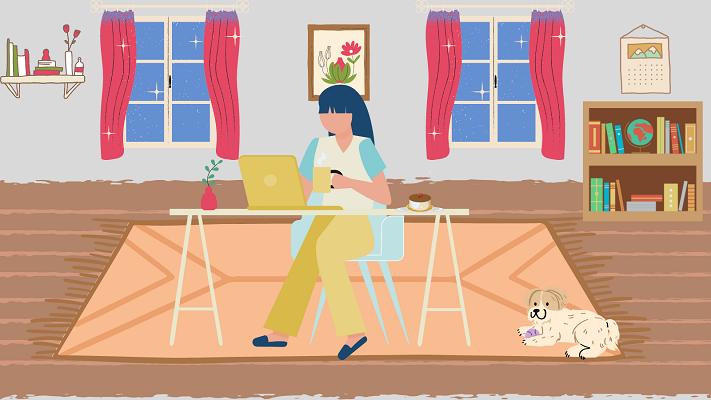 1) Where did the inspiration for your book come from?
I'm a little embarrassed to tell you – but here goes. I was going into the loo at the university where I taught Journalism and
tripped over one of those plastic signs warning that the floor was wet. The phrase, 'Tripping over an inconveniently placed sign set the tone for the day – she knew better than to think the day could only get better.' And the idea for a story, set in a university and featuring a lecturer for whom life was full of ups and downs, lodged in my brain.
2) How did you plan out the plot?
My co-writer, Sue Featherstone, and I had already written two academic books and we'd joked about writing a bonk buster. We met for coffee and I told her about my idea to write a campus novel and, luckily, she thought it a great idea. We both carry notebooks and pens all the time (vital for making notes when ideas pop into your head) so we sketched out a story featuring two university lecturers (which we both were at the time). We decided not to make it a bonk buster!
3) When did you choose the title for your book?
The title evolved gradually. My character, Teri, experienced so many ups and downs – in her love life and in her lecturing work – that
she seemed to be forever 'falling apart' and Lee (Sue's character) was always there to pick her up. We had many discussions with our editor – and someone suggested 'A Falling Friend' and it seemed to encompass the whole idea of the friendship between the two women.
4) How did you come up with the names for your characters?
Sue was very clever with her choice, Lee Harper (Harper Lee, get it?). I pinched the names of my character from two different television programmes. I thought Teri Meyer sounded classy – but fun!
5) Can you give us a hint to any sections that you removed?
We massively over-wrote our first draft. I think we got to over 120,000 words and our editor said that was far too long. We managed to get the novel to a more reasonable length with severe editing. We didn't cut huge chunks, but nibbled away at places where we'd over-written.
6) What made you choose this genre?
Once we'd decided it was to be a campus novel featuring the lives of two female friends, we thought women's literary fiction was the best genre for us.
7) How long did it take you to complete your book?
About five years! But then, Sue and I were both working full-time, plus dealing with family life – elderly relatives and children – so
time left for plotting and writing was limited.
8) Can you describe your book in three words?
Clever, raw and hilarious!
9) What's the hardest part of being a writer?
Sitting down to write when 'real' life gets in the way.
10) Why should our readers pick your book up?
I hope it's because they like the look of the cover and the sound of the story.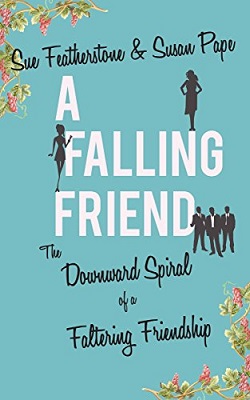 A Falling Friend
The Downward Spiral of a Falling Friendship
Author – Susan Pape & Sue Featherstone
Pages – 275
Release Date – 20th September 2021
ISBN 13 – 978-1739946036
Format – ebook, paperback
Synopsis
There are two sides to every friendship.
After spending her twenties sailing the globe, making love on fine white sand, and thinking only of today, Teri Meyer returns to Yorkshire – and back into the life of childhood friend Lee. Plus, there's the new job, new man – or three – and the guaranteed lump sum of a bursary for her academic research piece on the way. Life is first-rate.
What could possibly go wrong?
Going out on a limb to get best friend Teri a job at the same university seemed like a great idea. But it doesn't take long for Lee Harper to notice a pattern. Teri seems to attract trouble, or maybe she creates it, and Lee can see exactly where things are spiralling – downwards. But Teri's not the sort to heed a warning, so Lee has no choice but to stand by and watch. And besides, she has her own life to straighten out.
Purchase Online From:
Fun Questions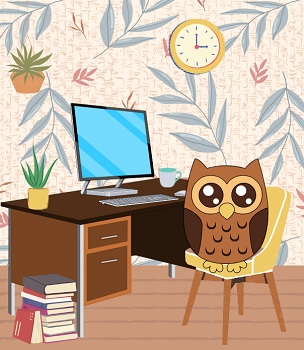 1) Do you have a writing buddy (i.e. a pet)?
I love the idea of a King Charles spaniel sitting in his basket under my desk, but, sadly, my lifestyle doesn't lend itself to Charlie (which is what I'd call him) or any other pet. I do have a little spotty dog sitting on the computer though!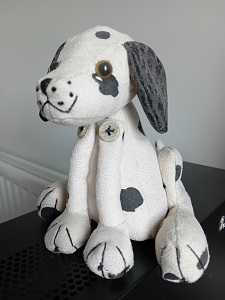 2) Do you have any writing quirks?
I need time before I start writing to read through what I wrote the day before. Then I gaze out of the window, clean the loo, put the washing out … anything to delay the actual process! Once I start writing the office has to be quiet with no distractions. When I need a break, I have a ritual where I make coffee in a little cafetiere, which I then drink (black with a little splash of cold water) out of my favourite cup.
We've turned our little bedroom into an office and my desk is tucked into the far corner next to the window with views over rooftops to the Chevin hills beyond.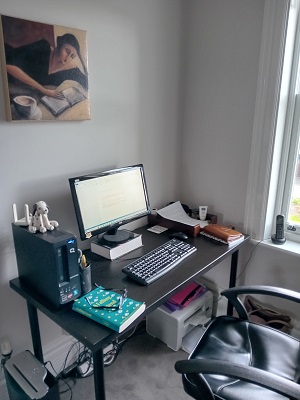 4) Your book has been made into a movie, you've been offered a cameo role, what will you be doing?
I'd love to play one of the women in the university's admin office. She keeps her head down but watches as other people (like Chrissie – the main human resources officer) getting on the wrong side of Teri – and that's a dangerous place to be!
5) A talking owl has just finished reading your book, what's the first thing he says to you?
'Susan: what is going on in your head that you invented a woman like Teri? She's selfish, rude, arrogant and a total nightmare. But, being a wise, old bird, I get it, there's a reason why she's like this – and I hope readers get to understand her a bit better (and forgive her)'.
---
Author links
Twitter
Goodreads
Website
---
A big thank you to Susan Pape for sharing her writing life with us and for a wonderful interview.
The above links are affiliate links. I receive a very small percentage from each item you purchase via these link, which is at no extra cost to you. If you are thinking about purchasing the book, please think about using one of the links above. Thank you.