Alice's Adventures in Wonderland by Lewis Carroll – Book Review
Alice's Adventures in Wonderland by Lewis Carroll – Book Review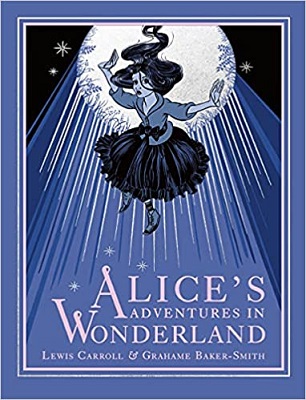 Alice's Adventures in Wonderland
Author – Lewis Carroll
Illustrator – Grahame Baker-Smith
Publisher – Templar Publishing
Release Date – 30th November 2021
Pages – 128
ISBN 13 – 978-1787415607
Format – Hardcover
Star Rating – 5
I received a free copy of this book.
This post contains affiliate links.

Synopsis
A stunning new edition of Lewis Carroll's classic children's tale.
'Curiouser and curiouser!'
Reimagined by the illustrations of Kate Greenaway Medal winner Grahame Baker-Smith, this stunning new edition of a childhood favourite will transport a whole new generation of readers down the rabbit hole and into Wonderland.
Conjured one 'golden afternoon' in 1867, the story of Alice has charmed readers for more than 150 years. Now readers can rediscover a host of favourite characters, from the despotic Queen of Hearts to the riddling Cheshire Cat, in a world where nothing is quite as it seems.
This new version of Alice's Adventures in Wonderland by Lewis Carroll has been illustrated by Kate Greenaway Medal winner Grahame Baker-Smith. I'm sure I don't need to go over what I thought of the story, though this classic tale is still loved today as much as it has been throughout the decades and numerous copies are still purchased year on year for collectors and those wanting to share their love of the story with their children.
This version of the book is amazing from cover to cover. Beginning with the cover, the colour is gorgeous and the feel of it is so soft, it just makes you want to keep on rubbing your hand over it. The inside is pretty special too.
There are full-page colourful illustrations, small brown or blue ones dotted throughout, and the occasional midsized image. These drawings are divine. They capture the eye and are such a delight to look at.
This is a book that could be given as a present, whether to a grown-up or a child. I adore this copy. Pictures open your mind to what is happening in the text and this book does this perfectly.
---
Purchase Online:
Grahame Baker-Smith

Grahame Baker-Smith, a self-taught illustrator, was inspired to create this book after his experiences of being a son and now having a son of his own. His first title for Templar Books, Leon and the Place Between, was short-listed for the Kate Greenaway Medal, and FArTHER went on to win in 2011. Grahame Baker-Smith lives in Bath, England, with his wife and three children.
Illustrator's Links:
---
Share your thoughts on Alice's Adventures in Wonderland in the comment section below!
---
The above links are affiliate links. I receive a very small percentage from each item you purchase via these links, which is at no extra cost to you. If you are thinking about purchasing the book, please think about using one of the links. All money received goes back into the blog and helps to keep it running. Thank you.
Like us on Facebook – Tweet us on Twitter – Pin us on Pinterest – Join us on Instagram