The Day the Sun Didn't Rise by Robert Bossler – Book Review
The Day the Sun Didn't Rise by Robert Bossler – Book Review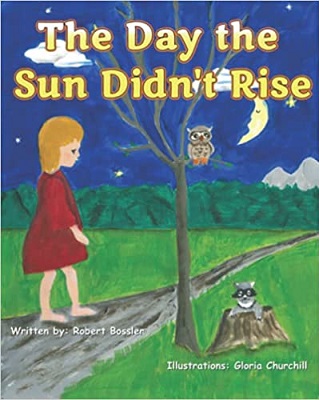 The Day the Sun Didn't Rise
Author – Robert Bossler
Illustrator – Gloria Churchill
Release Date – 2nd October 2021
Pages – 32
ISBN 13 – 979-8482296424
Format – ebook, Paperback
Star Rating – 4
I received a free copy of this book.
This post contains affiliate links.

Synopsis
A delightful book celebrating bravery and determination, The Day the Sun Didn't Rise is fun for readers of all ages.
When the Sun doesn't rise, the Earth is left in darkness. The Moon and stars continue to shine, but one brave star sets out to find the Sun. Adventure and new friends await as a little girl named Adelia joins Phoebe, the star, on her journey. Together can they find the Sun and bring back the light?
One day as Earth turned from night to day the sun didn't rise. The moon and stars had a discussion that one of them needed to go looking for the sun and a little star named Phoebe volunteered.
After flying East in search of the sun, she became tired and fell to Earth where she was helped by a little girl called Adelia to locate the sun but can she persuade it to shine again?
On receiving The Day the Sun Didn't Rise I presumed from the size of the book and it being full of illustrations that it was going to be a young children's picture book but there is far too much text in the story to be read by a young child and I would aim this book at 5-7 year olds.
The story is about loneliness and friendship. Hopefully, the message will come across loud and clear to the reader that being alone can sometimes make you sad and not wanting to do things and that it is lovely to offer friendship to a classmate, etc when they are lonely.
The illustrations are large and look like they have been drawn free-hand. They showcase the story perfectly and bring it to life.
The Day the Sun Didn't Rise is a lovely book with a strong message about looking out for your friends and noticing when they are sad and lonely.
---
Purchase Online:
Rob Bossler

Rob Bossler likes to tell stories. He likes to tell stories to his children, other children, adults, and even dogs!
His latest story is The Day the Sun Didn't Rise.
With a background in physics, Rob knew the missing sun couldn't just be "over the hills" in his story. But that's as much realism as you'll find in a charming tale that has talking animals, a sleepy moon, and a determined falling star.
Rob reminds all his readers that stories are gifts of wonder. They are always full of nuggets of truth. They are also, quite often, full of bologna!
Author Links:
---
Share your thoughts on The Day the Sun Didn't Rise in the comment section below!
---
The above links are affiliate links. I receive a very small percentage from each item you purchase via these links, which is at no extra cost to you. If you are thinking about purchasing the book, please think about using one of the links. All money received goes back into the blog and helps to keep it running. Thank you.
Like us on Facebook – Tweet us on Twitter – Pin us on Pinterest – Join us on Instagram