Rooso Takes To The Sky by Moira Benoit – Book Review
Rooso Takes To The Sky by Moira Benoit – Book Review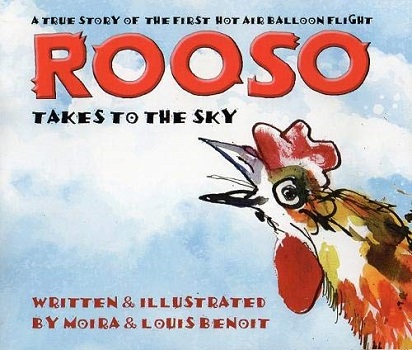 Rooso Takes To The Sky
The story of the first hot air balloon flight
Author – Moira Benoit
Illustrator – Louis Benoit
Pages – 20
Released – 21st November 2020
ISBN-13 – 978-1527276727
Format – ebook, paperback
Rating – 5 Stars
I received a free copy of this book.
This post contains affiliate links.


Synopsis
An uplifting re-telling of the Montgolfier's first balloon flight, narrated by a rooster. Vivacious illustrations enrich a story that will charm children and adults alike.
After graduating from the Glasgow School of Art in 1974 Moira Benoit followed a career in theatre design. Many plays, dance productions and events are now memories. There was an intended children's theatre production of the First Hot Air Balloon Flight, the passengers being; a Rooster, a sheep called Montauciel and a duck. The play was never made. A cherished story, Moira Benoit thought it deserved to be told, especially from the animal's point of view.
Who doesn't love a children's book that is fun, interesting, and educational too? I know I certainly do. Rooso Takes To The Sky is a young children's book about the first hot air balloon flight.
In 1783 the Montgolfier brothers, Joseph-Michel and Jacques-Étienne invented a way to travel through the air by using the smoke from a fire. They didn't want to use humans to show their flying abilities so they used a ram, a duck, and a rooster.
Author Moira Benoit after learning about the event during a theatre production that never made it to the stage decided to tell the intriguing story in a lovely picture book so that kids could read all about the animal's fun adventure.
There is a lot of text within the pages so this isn't something for those who are just learning to read but more confident readers should be fine, although there is the odd hard to read word. I would say this is more of a book to read with your child or to them or even a class read, especially one that they may continue into a class theme of air travel.
The book is filled with beautiful illustrations that adorn each page. They are quite abstract and quirky but I like them and they work well with the story.
This is a wonderful book and I am hoping that Moira Benoit brings us more historical education moments in time in later books as she certainly has a way with words that keeps the reader interested and makes learning feel effortless.
Purchase Online From:
---
What did you think of 'Rooso Takes To The Sky'? Share your thoughts in the comment section below!
---
The above links are affiliate links. I receive a very small percentage from each item you purchase via these link, which is at no extra cost to you. If you are thinking about purchasing the book, please think about using one of the links. All money received goes back into the blog and helps to keep it running. Thank you.
Like us on Facebook – Tweet us on Twitter – Pin us on Pinterest