Wolves in Helicopters by Sarah Tagholm – Book Review
Wolves in Helicopters by Sarah Tagholm – Book Review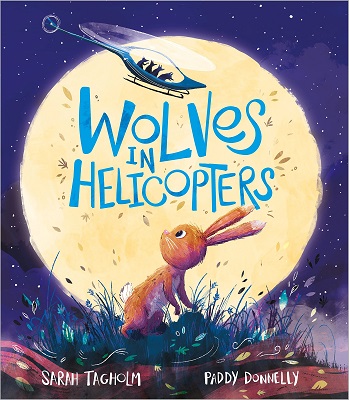 Wolves in Helicopters
Author – Sarah Tagholm
Illustrator – Paddy Donnelly
Publisher – Andersen Press
Release Date – 6th July 2023
Pages – 32
ISBN 13 – 978-1839131479
Format – Paperback, Hardcover
Star Rating – 4
I received a free copy of this book.
This post contains affiliate links.

Synopsis
Can Hop find a way to escape the wolves in her nightmares, even if they chase her in helicopters? Mummy thinks so…
Every night, Hop has nightmares filled with, scary, hungry-eyed wolves. She knows they only exist in her dreams but they still seem very real. Her mummy comforts her and has some good advice, but can Hop find the courage to conquer the wolves?
Practical advice for children who suffer night fears and terrors, in a gentle and funny story for the youngest of readers, illustrated by Sainsbury's Children's Book Award-Winning Paddy Donnelly.
Wolves in Helicopters is a young children's picture book about nightmares. Little Hop has a repetitive dream. Every night she dreams of wolves chasing her. Her mum tries different techniques to stop her being scared but none work until she realises that she is in charge of her dreams.
This bright, colourful picture book is beautifully adorned with glorious full-page illustrations that although do feature Hop's nightmares are not frightening, they do, however, make the story more interesting.
There are a lot of repeated passages for new readers and some lovely advice to help children who may suffer from nightmares. I was expecting there to be more about 'wolves in helicopters' but this is just one tiny part of the book.
Overall, if you have a child that is having nightmares, this book may be a big help. It shows exactly what Hop feels about her dreams and has a positive outcome which hopefully children who have nightmares can have too after reading it. It may also help adults to have a conversation about nightmares with the reader.
---
Purchase Online:
Sarah Tagholm

Sarah Tagholm is a children's author who loves writing about confused animals, mischievous children and all things bizarro. She is passionate about encouraging a love of reading, libraries and availability of books for all children.
Sarah lives with her husband and son in Cornwall, where they spend so much time in the sea it's a wonder they haven't grown gills!
Author Links:
---
The above links are affiliate links. I receive a very small percentage from each item you purchase via these links, which is at no extra cost to you. If you are thinking about purchasing the book, please think about using one of the links. All money received goes back into the blog and helps to keep it running. Thank you.