Don't Call Me Choochie Pooh by Sean Taylor – Book Review
Don't Call Me Choochie Pooh by Sean Taylor – Book Review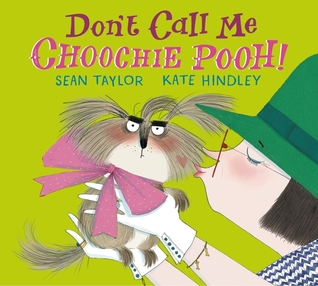 Don't Call Me Choochie Pooh
Author – Sean Taylor
Illustrator – Kate Hindley
Publisher – Walker Books
Pages – 32
Release Date – 2nd February 2017
ISBN-13 – 978-1406373103
Format – Paperback, hardcover
Reviewer – Stacey
I received a free copy of this book
Post Contains Affiliate Links

From Sean Taylor, the author of Hoot Owl, Master of Disguise, and Kate Hindley, illustrator of Worst in Show, comes a hilarious new picture book comedy starring a very small fed-up dog…
This dog doesn't want to be carried in a handbag (how embarrassing!) or eat heart-shaped Mini Puppy Treats (I mean, come ON!) and under no circumstances does he ever want to be called … Choochie Pooh! If only his owner understood.
All he wants to do is play with the big dogs in the park – chase sticks, jump in muddy puddles and be an ordinary, proper dog.

Stop treating me like a little baby, thought the little dog. I don't like being fed heart shaped puppy treats, I don't like being carried in your handbag, and I certainly don't like being called Choochie Pooh. But his owner never seems to notice what he doesn't like.
His owner is embarrassing him in front of all the other dogs, treating like he's her baby. He just wants to be a normal dog. He wants to run around, chase after other dogs, splash in puddles, and have fun.
Don't Call Me Choochie Pooh, is a lovely children's picture book. The illustrations are divine. They are bright, bold and capture the heart of the story. I love the faces that the dog pulls every-time his owner does something he doesn't like. You also get to read exactly how he feels with the added speech bubbles.
I think the plot is brilliant. I always cringe when I see celebrities carrying their little dogs in their handbags, dressing them up. Dogs are meant to be dogs, and shouldn't be treated like that.
The one thing I would of loved to of seen in the book, was the dog's name. There are other dogs in the book who are all given names. I also wasn't sure whether the dog was male or female. I opted for male, as he looked like a male to me.
Don't Call Me Choochie Pooh is an intensely enjoyable book, one that will have children laughing throughout.
Book Reviewed by Stacey
Purchase Links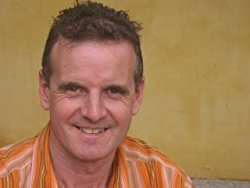 Sean Taylor is an award-winning author of more than 40 books for young readers. His picture books include 'Hoot Owl, Master of Disguise', 'It's A Groovy World. Alfredo', 'Robot Rumpus', 'The World Champion of Staying Awake', 'When a Monster is Born' and 'Crocodiles are the Best Animals of All.'
For 6 – 10 year olds he has published 'Where The Bugaboo Lives!', the 'Purple Class' series of comic adventures set in an urban primary school, and a collection of folktales from the Amazon called 'The Great Snake'. His novel for teenagers 'A Waste of Good Paper' was longlisted for the Carnegie Medal.
Sean and his family have spent spells living in England (where he was born) and Brazil (where his wife is from).
Author Links