Revenge of the Beast by Jack Meggitt-Phillips – Book Review
Revenge of the Beast by Jack Meggitt-Phillips – Book Review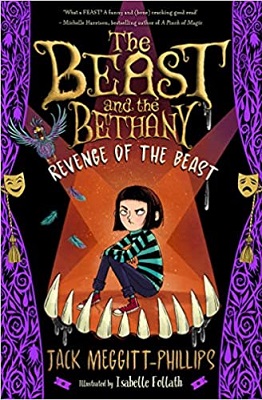 The Beast and The Bethany: Revenge of the Beast
Author – Jack Meggitt-Phillips
Publisher – Farshore
Release Date – 30th September 2021
Pages – 288
ISBN 13 – 978-1405298919
Format – ebook, Paperback, Audio
Star Rating – 5
I received a free copy of this book.
This post contains affiliate links.

Synopsis
Once upon a very badly behaved time, 511-year-old Ebenezer kept a beast in his attic. He would feed the beast all manner of objects and creatures and in return the beast would vomit him up expensive presents. But then The Bethany arrived …
Now notorious prankster Bethany, along with her new feathery friend Claudette, is determined that she and Ebenezer are going to DE-BEAST their lives and Do Good. But Bethany finds that being a notorious prankster makes it hard to get taken on for voluntary work. And Ebenezer is secretly missing the beast's vomity gifts. And neither of them are all that sure what 'good people' do anyway …
Then there's Claudette, who's not been feeling herself recently. Has she eaten something that has DISAGREED with her?
The Beast and the Bethany has all the classic macabre humour of Roald Dahl with the warmth and charm of Despicable Me, finished off with a gleeful bite of Little Shop of Horrors!
Revenge of the Beast is the second book in the hilarious middle-grade series from author Jack Meggitt-Phillips – The Beast and the Bethany. I reviewed book one in September 2020 and found it enjoyable and very imaginative and couldn't wait to read book two after the open ending.
In this second book, we are taken back to how Ebenezer came to meet the Beast and become its housemate, I suppose this is the right term as he certainly wasn't the Beast's owner. As well as continuing our journey with Ebenezer, Bethany, and Claudette the parrot who has eaten something that doesn't agree with her!
The plot is as funny and bonkers as the first book. I loved the dual timeline and getting to know more about Ebenezer and his younger years, including the attention he craved from others and how the Beast facilitated his desires as well as used him for his own gain.
I also enjoyed how Bethany was trying to de-beast the house including everything it had ever vomited up for Ebenezer. She hasn't lost any of her pig-headedness, stubbornness, or trickery but it is clear that she does care for Ebenezer.
The book is fast-paced, entertaining, and captivating from the beginning to the end. It made me laugh-out-loud on more than one occasion as well as feel a little sorry for Ebenezer, not something I thought I would feel after reading book one. Plus, a lot of concern for Claudette who is really struggling after what she did at the end of book one.
A delightful continuation that may actually be better than the first story. For middle-grade readers who love a spellbinding plot that they can giggle along to, this is the series to pick up.
---
Purchase Online:
Jack Meggitt-Phillips

Jack Meggitt-Phillips is an author, scriptwriter, and playwright whose work has been performed at The Roundhouse and featured on Radio 4. He is scriptwriter and presenter of The History of Advertising podcast. In his mind, Jack is an enormously talented ballroom dancer, however his enthusiasm far surpasses his actual talent. Jack lives in north London where he spends most of his time drinking peculiar teas and reading P.G. Wodehouse novels.
Author Links:
---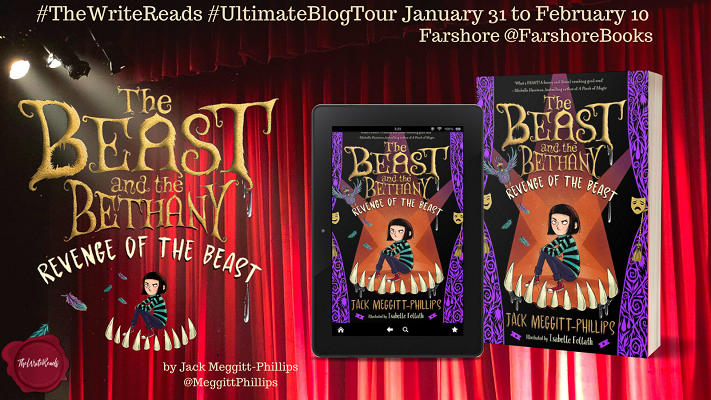 ---
Share your thoughts on Revenge of the Beast in the comment section below!
---
The above links are affiliate links. I receive a very small percentage from each item you purchase via these links, which is at no extra cost to you. If you are thinking about purchasing the book, please think about using one of the links. All money received goes back into the blog and helps to keep it running. Thank you.
Like us on Facebook – Tweet us on Twitter – Pin us on Pinterest – Join us on Instagram