The Writing Life of: Iain Hood
Iain Hood
This week I am thrilled to be interviewing author Iain Hood, who will be sharing with us details of his writing life, telling us all about his book 'This Good Book', which was released on 16th September 2021, and answering a few fun questions. This post contains affiliate links.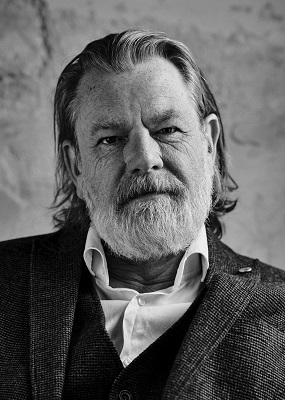 Iain Hood was born in Glasgow and grew up in Ayrshire. He attended the University of Glasgow and Jordanhill College, and later worked in education in Glasgow and the West Country. After a move to Cambridge, he attended the University of Manchester. He continues to live in Cambridge with his wife and daughter. This Good Book is his first novel.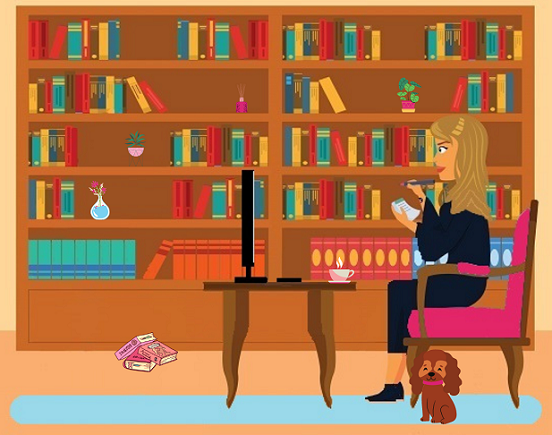 1) Did you enjoy writing when you were a child?
My English teacher for the first year of secondary school told me I had to start reading the Observer review section. The first copy I got my hands on had a long front page article by Anthony Burgess on James Joyce and Finnegans Wake. A baptism of fire! Then the same teacher said to me that I had to try harder (I think the implication was harder than my peers) in my writing because one day I was going to be a journalist. When I rose-tint the memory, she's telling me I'm going to be a writer.
2) Which author shaped your childhood?
The name that came to me just now was Joan Lingard, a Scots/Northern Irish writer. Her book The Twelfth Day of July sticks in my memory. It wasn't a set reading book, but the school had it available to read. Also, being shown the film made of Hemingway's story 'My Old Man' at school was seminal.
3) What motivated you to begin your first novel?
A novelist was what I wanted to be when I thought of being a writer. So even though I did the usual dance around with poems and short stories when I got going writing, it was always a novel I wanted to get to. This was my mid-twenties or thereabouts.
4) Do you plot your book, or are you a pantser?
Plotter. Because I think structure is integral to the storytelling process. As in, who is speaking, or are they writing, and who are they speaking or writing to? What way is the structure of the story the story itself? That kind of thing.
5) What is your average writing day?
I've sent a photo of the place where I read, which I consider 99% of the writing 'game'. Where I write is just anywhere I lay my laptop.
6) What is the best thing about being an author?
Fame, adulation, money… Kidding. It's when a reader says something as an addition to telling me they liked my novel (which people tend to politely do) that is surprising or revelatory to me, or when they have responded to something in the writing the way I hoped a reader would.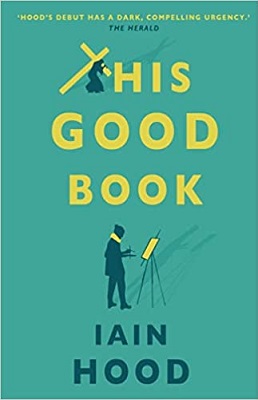 This Good Book
Author – Iain Hood
Publisher – Renard Press Ltd
Pages – 208
Release Date – 16th September 2021
ISBN 13 – 978-1913724191
Format – ebook, Paperback
Synopsis
'Sometimes I wonder, if I had known that it was going to take me fourteen years to paint this painting of the Crucifixion with Douglas as Jesus, and what it would take for me to paint this painting, would I have been as happy as I was then?'
Susan Alison MacLeod, a Glasgow School of Art graduate with a dark sense of humour, first lays eyes on Douglas MacDougal at a party in 1988, and resolves to put him on the cross in the Crucifixion painting she's been sketching out, but her desire to create 'good' art and a powerful, beautiful portrayal means that a final painting doesn't see the light of day for fourteen years.
Over the same years, Douglas's ever-more elaborately designed urine-based installations bring him increasing fame, prizes and commissions, while his modelling for Susan Alison, who continues to work pain and suffering on to the canvas, takes place mostly in the shadows. This Good Book is a wickedly funny, brilliantly observed novel that spins the moral compass and plays with notions of creating art.
Purchase Online From:
7) How did you go about researching the content for your book?
In the book the narrator, Susan Alison, is researching source material for a painting of the Crucifixion she is trying to create over fourteen years. Her research as described in the book pretty much mirrors mine for the writing of the book. A lot of looking at Crucifixion scenes in art and getting to know more about the artists who painted these, but also music and films about the Crucifixion and other religious themes. I re-read pertinent sections of the Bible and Qur'ān, and though I grew up knowing the Stations of the Cross, I had to check these.
There were also hours and hours and hours of listening to the Scottish rock band Mogwai and composing lists of Mogwai song titles I could weave into the text. And yet I still love and listen to Mogwai! It wasn't a chore; that part of the writing was fun.
8) How long did it take to go from the ideas stage to writing the last word?
The last word was written on the day the text was sent to the printers, and was part of the last words of Susan Alison's narration in the book. I had been kicking around an idea of 'The Jesus Book' for maybe ten years. The composition, editing and proofing took about the last three of those ten years.
9) What made you choose the genre you write in?
Well… it's literary fiction, more interested in playing with genres than being in a genre. An easy sell, that! As I've said elsewhere, it's a book that has a crime and a trial in it, but it's not a crime novel, more a novel like Alexander Trocchi's Young Adam. It has horror in it, but it's not a horror story: more in the tradition of 'The Horror' in Joseph Conrad's Heart of Darkness. It is a romance and a love story, but not a romance about the love relationship between the two protagonists.
There is something haunted about the characters, but it's not a ghost story. The question is, who is being haunted by what or whom? Certainly, Susan Alison is haunted by her memories of and thoughts about the Crucifixion and Douglas, and equally certain is my hope that the reader will be haunted by Susan Alison's voice long after the book is read.
10) How did you come up with the name(s) for your lead character(s)?
Susan Alison MacLeod and Douglas MacDougal. Douglas is the easier one, because his name mirrors the devilish Dougal Douglas in Muriel Sparks' The Ballad of Peckham Rye. Spark inspires a great deal in the novel, especially the tone of dark, almost macabre humour, and Susan Alison's way of narrating a story. She is named in a full way 'Susan Alison' due to her heritage, coming from the western isles (think the Katie Morag books and tv programme). Susan and Alison are common enough names in this context, but also there are a fair few great Scots artists called Susan or Alison.
11) Can you give us an insight into your characters?
Susan Alison's narration is, from one perspective, a series of insights into Douglas's character: she seeks to know and understand him, even though she says she does not need to do so in the narrative, at least not know or understand him to be able to paint him as Christ on the cross. That this search is not really reciprocated by Douglas (he implies he knows exactly what kind of person she is almost from the moment they meet) says more about him than anything that could actually be said.
12) How did you feel when you had completed your book?
Certain that it was the best one I had written to date (there were a few before this one). Also certain that it had utterly failed to live up to my initial conception of the book, but that was OK, and a whole other story!
Fun Questions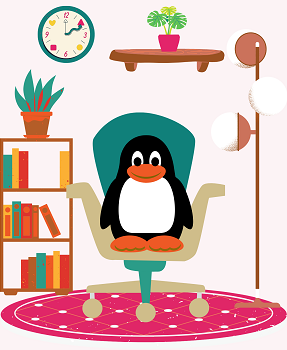 1) Do you have a favourite quote?
Yes, it's 'Question Everything.' I was just checking it, and it seems like it is being attributed to Marx at times, but it was as Marx's favourite quote (by Euripides) that I learned about it. I also like the other Marx (Brothers, this time) quote, 'Euripides trousers, you pay for dees trousers.' Another Marx (back to Karl) quote ends This Good Book after Susan Alison's narration ends.
I also became a father years after my friend Martin had his kids. I asked him if he had any advice on parenting and he said that what he had learned, in toto, was, 'Always make sure the kid has a hold of the ice cream before letting it go.' If that isn't something to live by, I don't know what is.
I don't.
3) What are you currently reading?
I'm reading Charlie Kaufmann's Antkind, Jenni Fagan's Luckenbooth and Jonathan Franzen's Crossroads, my latest book group book. Claire Keegan's Small Things Like These is lined up as next on my TBR pile.
4) Your book has been made into a movie, you've been offered a cameo role, what will you be doing?
I would be in the film the same way I am in the book in a cameo role. The quote is, 'The night that I remember clearest in 1991 was the night of the last day of the year and the New Year party that tipped us into 1992. It was in the Clevedon Crescent Lane garden flat of some bunch of geeks who thought they were cool because they had got their rave theme together by hiring a strobe light and who were playing Screamadelica repeatedly. The strobe was giving everyone headaches.' I was one of the geeks whose party that was. I hired the strobe and played Primal Scream's Screamadelica repeatedly. I am that geek. If the scene made the cut in the transition from novel to screenplay: I hear screen adaptations are brutal that way!
5) If you could travel to a fictional world from any book for the day, which would you choose?
I actually have done this, on the 16th June 1988, 1989, 2004 and 2015 Bloomsdays in Dublin, the celebration of James Joyce's Ulysses, a favourite. Perhaps I was also there during some other years where I was so horribly drunk I have forgotten. It's a heavy drinking day. I've sent a photograph from, I'm pretty certain, the 2004 centenary of the 1904 setting of the novel, of me dressed as Joyce for the day. Yes, us Ulysses fans are that [insert own word]. 'Daft', I'd go for.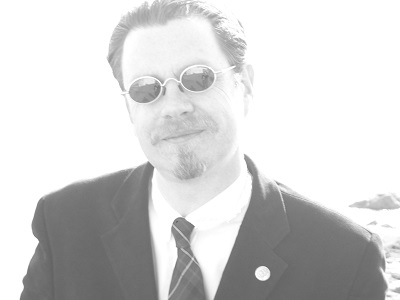 6) There's a penguin sitting in your chair, what's the first thing he says to you?
'What do you think of this idea?' I get all my best ideas from this penguin in my writing chair
A big thank you to Iain Hood for sharing his writing life with us and for a wonderful interview.
---
Author links
Twitter
Goodreads
Website
---
Let us know what you thought about our interview with Iain Hood
---
The above links are affiliate links. I receive a very small percentage from each item you purchase via these link, which is at no extra cost to you. If you are thinking about purchasing the book, please think about using one of the links above. Thank you.
Like us on Facebook – Tweet us on Twitter – Pin us on Pinterest