A Single Rose by Muriel Barbery – Book Review
A Single Rose by Muriel Barbery – Book Review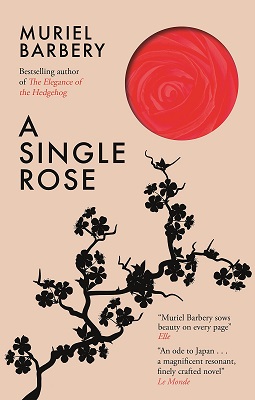 A Single Rose
Author – Muriel Barbery
Translator – Alison Anderson
Publisher – Gallic Books
Pages – 144
Released – 23rd September 2021
ISBN-13 – 978-1913547110
Format – ebook, paperback, hardcover
Rating – 3 Stars
I received a free copy of this book.
This post contains affiliate links.


Synopsis
The temples and teahouses of Kyoto are the scene of a Frenchwoman's emotional awakening in the stunning new novel by international bestseller Muriel Barbery.
Rose has turned 40, but has barely begun to live. When the Japanese father she never knew dies and she finds herself an orphan, she leaves France for Kyoto to hear the reading of his will.
In the days before Haru's last wishes are revealed, his former assistant, Paul, takes Rose on a tour of the temples, gardens and eating places of this unfamiliar city. Initially a reluctant tourist and awkward guest in her late father's home, Rose gradually comes to discover Haru's legacy through the itinerary he set for her, finding gifts greater than she had ever imagined.
This stunning novel from international bestseller Muriel Barbery is a mesmerizing story of second chances, of beauty born out of grief and roses grown from ashes.
Forty-year-old botanist Rose Ueno has travelled from her home in France to Kyoto, Japan, for the will reading of her later father Haru whom she has never met and was a successful art dealer.
Whilst there she stays in her late father's home and is looked after by his elderly housekeeper, his driver, and his assistant Paul, a widower with a young daughter. Paul has been left a list of places from Haru to take Rose who has never been to Japan before nor does she speak the language. The two visit temples and gardens, etc together and a bond begins to form between them.
I loved the blurb from A Single Rose and the cover made me want to pick this up book up and settle down to read it, immediately. However, I wasn't more than a few pages in when I realised that I was going to struggle with it. The way it is written/or translated is very intellectual. Every page seems to have a hidden meaning or message, one that I could feel was there but felt like it went over my head.
The amusing thing is that in-between the chapters are short stories, Japanese folk law that tells you tales that have subliminal messages, these I enjoyed and they kept me reading.
The book is not a bad read by any stretch. At first, I couldn't warm to Rose but as the book progresses she opens up more and becomes more down to earth from the stuck-up woman she came across at the start. She especially relaxes as she gets closer to Paul. I also loved visiting the sites of Japan which were well described.
I can see a lot of people enjoying this short book and taking on board the story of what I presume is forgiveness. For me, I like my books to get right to the heart of the matter and not to have to try and decipher the undercurrent of the story the whole way through.
Purchase Online From:
---
What did you think of 'A Single Rose'? Share your thoughts in the comment section below!
---
The above links are affiliate links. I receive a very small percentage from each item you purchase via these links, which is at no extra cost to you. If you are thinking about purchasing the book, please think about using one of the links. All money received goes back into the blog and helps to keep it running. Thank you.
Like us on Facebook – Tweet us on Twitter – Pin us on Pinterest – Join us on Instagram