The Christmas Eve Tree by Delia Huddy – Book Review
The Christmas Eve Tree by Delia Huddy – Book Review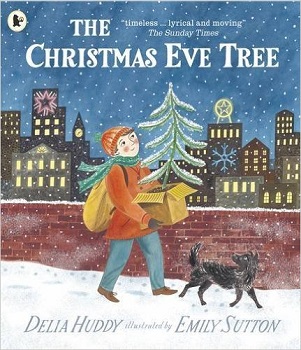 The Christmas Eve Tree
Author – Delia Huddy
Illustrator – Emily Sutton
Publisher – Walker Books
Pages – 32
Release Date – 6th October 2016
ISBN-13 – 978-1406365955
Format – paperback, hardcover
Reviewer – Stacey
I received a free copy of this book
Post Contains Affiliate Links

A poignant, exquisitely illustrated Christmas story, with words by Delia Huddy and pictures by rising star Emily Sutton.
When the ugly little fir tree is taken to the city, no one wants to buy him; they prefer the big tall trees. But a homeless boy asks the shopkeeper if he can take the tree, and down by the river in a cardboard box, decorated with a few candles, the tree finds itself at the centre of a magical Christmas Eve it will never forget.
A Christmas tale with a classic feel but a modern theme at its heart.

There was once a little Christmas Tree that when he was planted with all the other trees, was planted carelessly. And so over the years as the tree started growing, it didn't grow as big as the other trees, and he grew wayward.
When he was taken to the shop to be sold, no-one wanted the tree, until a little homeless boy asked could he have it. The little boy brought hope to the tree, and with some love, and decorations, the tree looked beautiful and was happy again. That was until Christmas was over. But that wasn't the end of the little tree, just the beginning.
I adore this sweet children's book. From the inviting front cover, to the story being told from the perspective of the tree, giving it feelings and thoughts. The book as a whole gives you that feel-good, heart-warming sensation.
The illustrations are beautifully drawn and really capture the heart and soul of Christmas. Big or small, children everywhere will love this poignant book. The Christmas Eve Tree is a book that will be re-read every Christmas as the years go by.
Book Reviewed by Stacey
Purchase Links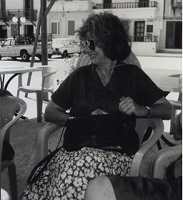 Delia Huddy worked as an editor in children's publishing in a long career that included many happy years at Julia MacRae Books in London, after which she became editorial director at Random House UK.
She was also an author of novels, picture books, and younger fiction. At the end of her life, in 2005, Delia Huddy was working on the text for The Christmas Eve Tree.