Princess Bella and the Dragon's Charm by Pete Planisek – Book Review
Princess Bella and the Dragon's Charm – Book Review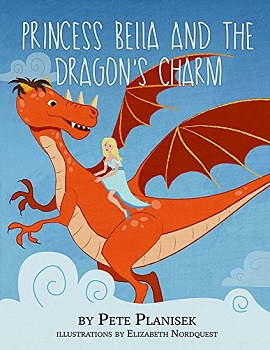 Princess Bella and the Dragon's Charm
Author – Pete Planisek
Publisher – Enceladus Literary LLC
Pages – 42
Release Date – 14th April 2016
Format – ebook, paperback
Reviewer – Stacey
I received a free copy of this book
Post Contains Affiliate Links

It's a magical age of kings and queens, knights and castles, and royal marriages. For some reason, poor Princess Bella never laughs, that is until she befriends a friendly dragon named Spurlock. Together they'll face Bella's doubtful parents, a snobbish prince, and an evil witch who wants the kingdom and all its treasures for herself.
This light-hearted tale of adventure and mystery will help teach children about friendship, the importance of accepting others, and the idea that courage can take many forms. This children's chapter fantasy book is intended for young readers ages 6-11.
Princess Bella and the Dragon's Charm is the first children's chapter book written by Pete Planisek and the first book illustrated by Elizabeth Nordquest.

Princess Bella is the most beautiful princess in the land, yet she always looks unhappy and sad, even-though she is not. This was because no-one had ever seen or heard her laugh. The King and Queen had tried numerous times to find out why, but with nothing ever being found wrong with the Princess, they were left baffled. The country's people deemed her to be cold like ice, and gave her the title 'The Ice Princess'.
Whilst up in the tower one day, Bella finds herself dragon-napped by a friendly dragon named Spurlock. Spurlock has taken the Princess as he needs her help with a problem of his, and being 'The Ice Princess', she was perfect for the job. Bella thought that what Spurlock wanted to do was hilarious, and so she laughed and laughed, but her laugh made a horrible ear-splitting noise.
Bella asked Spurlock to take her back to the castle and invited him to live with her family, as he was such a friendly dragon, but was Spurlock really a dragon, and why did Bella have such an awful laugh?
Princess Bella and the Dragon's Curse is a fun, young children's fairy-tale, containing magic, knights, royalty, a dragon and an evil witch, all good things a fairy-tale should have!
I loved the plot, and Bella certainly is the most beautiful princess that has ever lived, and Spurlock is such a cute dragon.
I would have liked to have seen more illustrations throughout, as these tend to be what holds children to the pages and keeps them interested. That said, the pictures that are in the book are bright, colourful and eye-catching.
If your children love fairy-tales, adventure and Princesses, then this book will capture their imagination and have them realising that love comes in all shapes and sizes.
Book Reviewed by Stacey
Purchase Links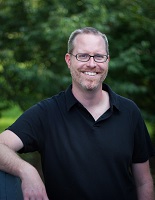 Pete Planisek lives in Columbus, OH, where he teaches English, runs Enceladus Literary LLC, and is co-host of an entertainment podcast called Hindsight is 20-20.
He received his Masters from Ohio University where he founded a student literary arts magazine called Recently Eclipsed. He has published newspaper articles and is a member of Independent Book Publishers Association.
He served for seven years as adviser/co-adviser to a NCTE award winning student literary arts publication. He has published two novels in his Resurrection Trinity series titled Frankenstein A Life Beyond (Book 1 of 3) and Frankenstein Soul's Echo (Book 2 of 3) and a children's chapter book titled Princess Bella and the Dragon's Charm.
Author Links