Maybe by Chris Haughton – Book Review
Maybe by Chris Haughton – Book Review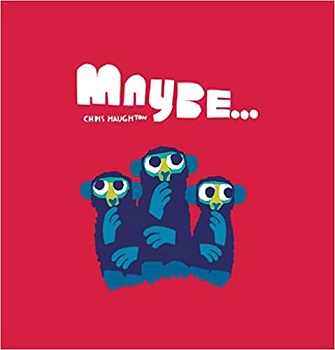 Maybe
Author – Chris Haughton
Publisher – Walker Books
Pages – 40
Released – 1st April 2021
ISBN-13 – 978-1406385526
Format – hardcover
Rating – 4 Stars
I received a free copy of this book.
This post contains affiliate links.


Synopsis
Three little monkeys, and their big monkey, are sat high up on their branch in the forest canopy. "Ok, monkeys! I'm off," says the big monkey. "Now remember. Whatever you do, do NOT go down to the mango tree. There are tigers down there." Mmm … mangos! think the little monkeys. They LOVE mangos. Hmm … maybe … maybe they could just look at the mangos? That'd be ok, right?
Maybe… is young children's picture book about three little monkeys who are learning a life lesson. When their mother leaves them alone, she warns them not to go to the mango tree as there are tigers around who want to eat them.
When she leaves they talk each other into just going to look at the mango tree. But they can't resist getting closer for a taste as they love mangos. What they can't see are the tigers waiting in the bushes, lurking and watching the monkeys, getting ready to pounce.
The story for me was about emphasising to children that they should 1) do as you are told. 2) you can't always see the danger. The monkeys certainly learned a valuable lesson – maybe…
The illustrations throughout are full-page and are just like the cover, with lots of deep reds and blues. The text is kept to a minimum, making this book quite a simple and quick read.
The book was enjoyable and entertaining. It would make a lovely class or bedtime story.
Purchase Online From:
---
What did you think of 'Maybe'? Share your thoughts in the comment section below!
---
The above links are affiliate links. I receive a very small percentage from each item you purchase via these link, which is at no extra cost to you. If you are thinking about purchasing the book, please think about using one of the links. All money received goes back into the blog and helps to keep it running. Thank you.
Like us on Facebook – Tweet us on Twitter – Pin us on Pinterest – Join us on Instagram