Anna by Sammy H.K. Smith – Book Review
Anna by Sammy H.K. Smith – Book Review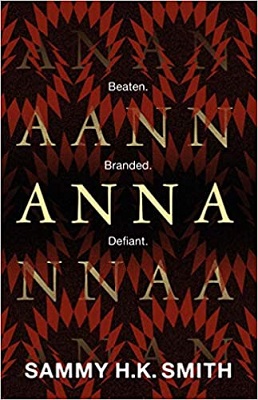 Anna
Author – Sammy H.K. Smith
Publisher – Solaris
Release Date – 3rd February 2022
Pages – 300
ISBN 13 – 978-1786184689
Format – ebook, Paperback, Hardcover, Audio
Star Rating – 4
I received a free copy of this book.
This post contains affiliate links.

Synopsis
Beaten. Branded. Defiant.
Anna is a possession. She is owned by the man named Will, shielded from the world of struggles by his care. He loves her, protects her, and then breaks her. Anna is obedient, dutiful, and compliant. Anna does not know her place in the world.
When she falls pregnant, Anna leaves her name behind, and finds the strength to run. But the past – and Will – catch up with her in an idyllic town with a dark secret, and this time, it's not just Anna who is at risk.
A chilling feminist novel set in a near-future dystopia, Anna explores the conflicts between selfhood and expectations, safety and control, and the sacrifices we make for the sake of protection.
I was really intrigued by Anna after reading the blurb, it sounded like nothing I had ever read before, but also kind of 'Handmaids Tale' vibes. Once I started to read the book, I knew I was going to enjoy it as I was pretty much hooked from the first page.
The book centres around the main character who for the first half of the book goes by the name of Anna. We meet her just as she becomes captured by 'Will'. You soon realise that the novel is based in a dystopian world and the laws of normal society do not mean anything here.
The novel is split into two halves and deals with violence against women which could be very triggering, however, the second half of the book is about how Anna manages to fight back and finally get revenge.
The way the story is split is interesting as it takes a while to realise that you are hearing from the same person in both sections and the stories are so different, to begin with, that it's hard to think we are reading the same person's story.
The one thing I would say about the storyline is that the whole way through the second half I was anticipating the moment when Anna would come across Will again and the fact that it did happen did leave me feeling like the story was a tiny bit predictable. However, if she hadn't met him again, there wouldn't be that moment of retribution.
The ending for me was so satisfactory and you finish the book feeling like everyone got what they deserved in the end. However, it did leave me wanting to find out what happened to 'Anna' afterward. I would definitely read a second book if there was one.
Ultimately, the novel is one of hope and how even when things look impossible there is always a way out.
---
Purchase Online:
Sammy H.K. Smith
Sammy H.K. Smith lives and works in Oxfordshire UK as a police detective. When not working she spends time with her children, husband and pets, renovates her house, and inadvertently kills plants. A keen writer and lover of all things science fiction and fantasy, she's often found balancing a book, a laptop, a child, and a cat whilst watching Netflix.
Author Links:
---
Share your thoughts on Anna in the comment section below!
---
The above links are affiliate links. I receive a very small percentage from each item you purchase via these links, which is at no extra cost to you. If you are thinking about purchasing the book, please think about using one of the links. All money received goes back into the blog and helps to keep it running. Thank you.