The Way You Look Tonight by Richard Madeley – Book Review
The Way You Look Tonight by Richard Madeley – Book Review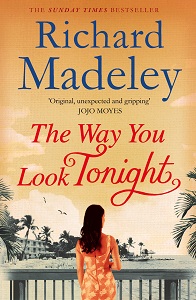 The Way You Look Tonight
Author – Richard Madeley
Publisher – Simon & Schuster
Pages – 368
Release Date – 31st July 2014
Format – ebook, paperback, hardcover, audio
Reviewer – Stacey
Rating – 3.5 Stars
Contains Affiliate Links

It's the summer of 1962 and Stella Arnold is on route to Northampton, Massachusetts, to further her studies in psychology. She is travelling from the UK to Smith College, one of the top women's universities in America, to study for a PhD in psychopathy, after gaining a degree in psychology at Cambridge.
Psychopathy is a subject she has a keen interest in as she has first hand knowledge of the subject at the hands of her father.
Down in the Florida Keys, there is a bold serial killer on the loose, taunting the authorities. He's targeting young, alone females, and the FBI have been drafted in to help catch him.
After attending a BBQ with the family she is staying with, she has a chance meeting with the President, JFK and his family. JFK and his brother Bobby learn of Stella's studies and firmly request that she fly down to Florida, to work as a criminal profiler for the FBI, to help catch their killer.
Working alongside top FBI agent, Lee Foster, a game of cat and mouse ensues. With Lee's FBI skills and Stella working as a profiler, how long will it be before the killer is caught?

When I first started reading 'The Way You Look Tonight', I was surprised to see that the main character in the story, was from Richard Madeley's first novel, 'Someday I'll Find You'. You do get to find out all about Stella's back-story and what happened in the first book during part two of his book, but I do feel it would still be best to read both, but this one does work as a stand alone book too.
The story is historical fiction with a hint of thriller, and a dash of romance. I enjoyed the plot and the characters, especially Stella.
Stella Arnold is a bold, tough, confident, no-nonsense, English rose. She is a wonderful character, very intelligent and determined. She will do anything to catch the killer, as that would show how impressive she can be, especially being a female in a male dominated environment.
Stella and Agent Lee Foster have a strained relationship at first. He sees her as this 'English kid', that needs baby sitting and he doesn't have time to be her tutor. As the plot develops, their relationship alters, as time after time, Stella proves herself to be a useful asset to the FBI.
My first impression was how much more experienced the writing was in this book, to Richard's last novel. I loved the plot and the fact that the story is written in the third person, so we get to read not only about Stella and the investigation, but also glimpses in to the mind of the killer and how he captures and kills his victims.
Adding the Kennedy family to the story was a nice touch, but I felt that they were there just to add some glamour to the story, as the plot would still work with or without them.
The writing has a natural flow to it and I did find myself enthralled at times, but there weren't as many twists and turns as I would have liked and as I said, it had a hint of being a thriller, but that was it just a hint. You do find yourself transported back to the 60's, with the vividly described descriptions and attitudes throughout the book.
Overall I did enjoy the book and I am glad that I read 'Someday I'll Find You' first, as this book tied in nicely with the first one.
Book reviewed by Stacey
Purchase Links