The Cactus Creek Challenge by Erica Vetsch – Book Review
The Cactus Creek Challenge by Erica Vetsch – Book Review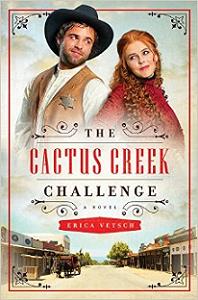 The Cactus Creek Challenge
Author – Erica Vetsch
Publisher – Shiloh Run Press
Pages – 320
Release Date – 1st July 2015
Format – ebook, paperback
Reviewer – Stacey
Rating – 4 Stars
Contains Affiliate links
I received a free copy of this book

Anything he can do I can do better. At least that was what Cassie Bucknell thought before she pinned on Ben Wilder's badge and took to patrolling the streets of Cactus Creek, Texas.
Cassie has been in love with Ben since primer school, but Ben treats her like a little sister. When they are picked to swap jobs for a month as part of the annual Cactus Creek Challenge in their Texas home town, the school house is thrown into an uproar, the jail becomes a temporary bank vault, and Cassie and Ben square off in a battle of wills that becomes a battle for their hearts.

The year is 1888 and in the small town of Cactus Creek, it's that time of year when two people are picked against each other to swap jobs for the month. At the end of the month the town's citizens vote for which person did the best job, and the winner receives money for their cause.
This year the council members have thrown in a surprise. They have allowed women to be entered into the contest, and in doing so, there will be four people swapping jobs, women versus men.
Cassie Bucknell is the town's school teacher. She is tough, strong, independent and stubborn. When she is chosen to swap jobs with the town's sheriff, Ben Wilder, the man she has been in love with since a child, she is up for the challenge, unlike Ben, who dismisses the idea straight away.
Ben sees Cassie as a young tearaway that he used to save when she got stuck up trees, not the woman she has become, and he treats her like his kid sister. He is outraged that the council think that a child, a female child, could do his job.
Ben is pig-headed and just as stubborn as Cassie, although his motives for not wanting to swap are honest. He doesn't want Cassie getting hurt, or his town being thrown into disarray, along with the fact he doesn't think she could do his job.
Alongside Cassie and Ben, bakery owner Jenny Hart and livery stable owner Carl Gustafson are pitted against each other. Carl is as outraged as Ben. A livery is no place for a woman, what with all of the manual work, Jenny would never cope. Jenny is not thrilled with the idea either, but she is fed up with men thinking that she is a push over, and is determined to show Carl just how capable she is.
I thought the book was beautifully written and catches the era perfectly, with the vivid descriptions of the folk and the surroundings of a wild west town. The narrative just added that little bit extra to help make you feel like you are in 1888.
The school children are a delight and certainly give Ben a hard time, especially as they want their teacher to win. I loved the chemistry and funny moments that the twins, Ulysses and Quincy have, and their antics and tricks that they pull.
The plot is unlike any other I had read before, thus making it interesting reading. I love American historical fiction and I found myself getting completely involved in the character's lives, especially Deputy Sheriff Jigger, who I thought was a brilliant and well thought out, amusing character.
The characters grew as the story evolved and you watch as Ben realises that Cassie isn't a child after all, but even so, they clash on almost every aspect of the policing of the town, especially when Cassie adds 'girl things' to his office, and messes with his paperwork.
The added twist near the end gives the story that added punch, and its lovely to see Ben's unusual teaching methods come in use, and that finally Cassie gets to prove herself.
The only criticism that I have is how the romantic side to the story was left until right near then end and then felt rushed. It would have been nice for it to play out a bit longer.
Apart for that, I really enjoyed the book and thoroughly recommend it. You can now read the review of Erica's new book, 'My Heart Belongs in Fort Bliss, Texas'
Book reviewed by Stacey
Purchase Links