My Heart Belongs in Fort Bliss, Texas by Erica Vetsch – Book Review
My Heart Belongs in Fort Bliss, Texas by Erica Vetsch – Book Review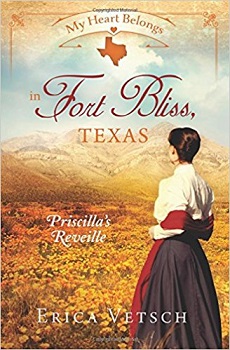 My Heart Belongs in Fort Bliss, Texas


Priscilla's Reveille
Author – Erica Vetsch
Publisher – Barbour Publishing
Pages – 254
Release Date – 1st January 2017
ISBN-13 – 978-1634099301
Format – ebook, paperback, hardcover
Reviewer – Stacey
I received a free copy of this book
This post contains affiliate links

Journey now to Fort Bliss in West Texas of 1874, where…A Battle Is About to be Waged Between Two Hearts.
Fashion artist Priscilla Hutchens has a grudge against the army that has ruined her family and taken the people she holds most dear. When her twin niece and nephew are left orphaned at Fort Bliss, Texas, she swoops down on Fort Bliss to gain custody of them immediately.
There is just one thing standing in the way–Post surgeon Major Elliot Ryder, who is also the twins uncle, also claims the children and thinks he knows what is best for them.
Priscilla and Elliot will cross swords, but each will have to lay down arms if they are to find a lasting peace on which to form the family both are longing for. Who will win the battle? Or will a truce be called for the sake of love and family?

1874, Priscilla Hutchens has just received word that her brother and sister-in-law, have been killed and that their two seven-year-old twins, Teresa (Tessa), and Timothy, have been left orphaned.
She decides that the children will need to come and live with her in Cincinnati, Ohio, so she sets off on the long journey to Fort Bliss army barracks, Texas, where the children are currently are living.
On arrival Priscilla causes a bit of a stir with the soldiers, with her good looks and expensive clothes. All except for one man, Major Elliot Ryder, the army doctor, who knows exactly what kind of influence a woman like her can cause.
It soon becomes clear that Major Ryder is in fact the uncle of the children and has been looking after them, treating them like mini soldiers, something Priscilla detests as she is not a fan of the army. He is also not about to hand the children over to some stranger, given that neither him, nor the twins, have ever seen her before.
Between the two of them they need to come to some agreement about the care of the children, but neither is willing to budge. Who will win this battle of wills?
My Heart Belongs in Fort Bliss, Texas, is a clean, sweet tale set amidst a real time in American history, and in a real place.
Priscilla is one feisty woman! She may have the voice and the dress of a posh lady, but she certainly is no pushover. She has pure stamina and determination, and is used to getting what she wants. She doesn't take too kindly to Major Ryder's upbringing of the twins, nor does she like Fort Bliss.
Major Ryder, is also a man with determination and used to what he says, goes. He isn't about to let a woman come into the children's life and take them away from him, the only family he now has left after the death of his sister.
The two characters are both very likeable and I could understand where both of them were coming from. They both had the children's best interests at heart, and I was hoping for some joint resolution.
The book had a lovely pace to it. There were no fast-paced, gripping, heart-pounding scenes, but there was plenty enough going on to keep me hooked to the pages. Ms Vetsch has a knack for making you feel like you have travelled back in time, and are witnessing the events firsthand.
If you are looking for a short, easy, historical read, then My Heart Belongs in Fort Bliss, Texas book would be perfect. Also have a read of the review for our review of Ms. Vetsch previous book, The Cactus Creek Challenge.
Book reviewed by Stacey
Purchase Links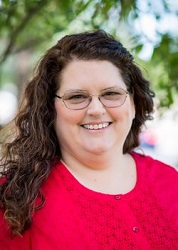 Even though Erica Vetsch has set aside her career teaching history to high school students in order to homeschool her own children, but her love of history hasn't faded. Erica's favorite books are historical novels and history books, and one of her greatest thrills is stumbling across some obscure historical factoid that makes her imagination leap.
She's continually amazed at how God has allowed her to use her passion for history, romance, and daydreaming to craft historical romances that entertain readers and glorify Him. Whenever she's not following flights of fancy in her fictional world, Erica is the company bookkeeper for her family's lumber business, a mother of two terrific teens, wife to a man who is her total opposite and yet her soul mate, and an avid museum patron.
Author Links