You're All My Favourites by Sam McBratney – Book Review
You're All My Favourites by Sam McBratney – Book Review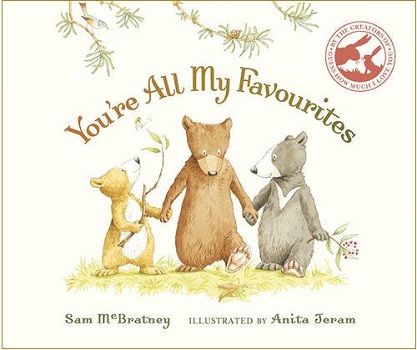 You're All My Favourites
Author – Sam Bratney
Illustrator – Anita Jeram
Publisher – Walker Books
Pages – 32
Release Date – 1st September 2016
Format – ebook, board book, paperback
Reviewer – Stacey
I received a free copy of this book
Post Contains Affiliate Links

In this heart-meltingly gorgeous, comforting story told by the creators of Guess How Much I Love You, three little bear siblings one day begin to wonder: how can they all be the "most wonderful baby bears in the whole wide world" to their parents?
Mummy Bear and Daddy Bear must set about reassuring their three little bears – who are all different – that each one of them is equally special and equally loved.

This beautiful board book brought to you by Walker Books, is written by world renowned author, Sam McBratney, author of 'Guess How Much I Love You'.
The book tells the story of three young bear cubs who all begin to wonder if their siblings are liked better than themselves by their parents.
The first baby bear wonders if his mummy preferred patches, as he didn't have any and his siblings did.
The second baby bear began to wonder if her daddy preferred boys, as she was not one.
The third baby bear worried that his sibling were liked better because they were taller than him.
It is up to their mummy and daddy to make the bears understand that although they are different, they are all loved equally, but will the bears believe their parents?
You're All My Favourites is heart-warming and will touch the hearts of every parent, and will make children with brothers and sisters understand that their parents don't have favourites, and that it is good to be different. It would be especially good for those who are expecting, or have just had a baby, to make their older child/children understand that the new baby won't be loved anymore than they already are.
The illustrations by Anita Jeram, are quite simply stunning. I loved every minute of this book. It is a perfect bedtime book to share with your child, or even for a teacher to share with his/her students.
Book Reviewed by Stacey
Purchase Links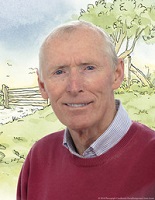 As a child
In his own words, Sam spent his postwar childhood "in short trousers and Fair Isle jumpers." He remembers studying for his 11-plus exam, before going to grammar school, and then on to study History and Political Science at Trinity College in Dublin.
As an adult
Sam became a teacher and taught at a further education college, a grammar school and a primary school. He took early retirement from the teaching profession to concentrate on his career as a writer. Sam is married with three grown-up children and a teenage tortoise, and lives in County Antrim, Northern Ireland.
As an artist
Sam has won many awards for his children's books and is best known as the author of the multi-million selling Guess How Much I Love You which was shortlisted for the 1994 Kurt Maschler Award, and is now one of the world's best-selling picture books. In 2004, Sam reunited with Guess How Much I Love You illustrator Anita Jeram to produce the follow-up, You're All My Favourites, and the two of them collaborated again in 2007 to produce a series of brand-new storybooks featuring the Nutbrown Hares: Guess How Much I Love You in the Spring followed by Summer, Autumn and Winter and brought together in Guess How Much I Love You All Year Round.
Author Links