Late Summer in the Vineyard by Jo Thomas – Book Review
Late Summer in the Vineyard by Jo Thomas – Book Review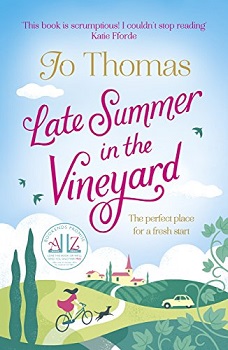 Late Summer in the Vineyard
Author – Jo Thomas
Publisher – Headline Review
Pages – 480
Release Date – 11th August 2016
Format – ebook, paperback, audio
Reviewer – Jodie
I received a free copy of this book
Post Contains Affiliate Links

Emmy Bridges has always looked out for others. Now it's time to put down roots of her own.
Working for a wine-maker in France is the opportunity of a lifetime for Emmy. Even if she doesn't know a thing about wine – beyond what's on offer at the local supermarket.
There's plenty to get to grips with in the rustic town of Petit Frère. Emmy's new work friends need more than a little winning over. Then there's her infuriatingly brash tutor, Isaac, and the enigmatic Madame Beaumont, tucked away in her vineyard of secrets.
But Emmy will soon realise that in life – just as in wine-making – the best things happen when you let go and trust your instincts. Particularly when there's romance in the air…

Having read Jo Thomas' previous book, The Olive Branch, I had high expectations. Late Summer in the Vineyard did not disappoint.
At the beginning of Late Summer in the Vineyard we meet Emmy Bridges, a somewhat watery but very likeable character. She has the worries of looking after her ill father and trying to make the monthly mortgage and bill payments resting on her shoulders. Working as a sales person at Cadwallader's call centre but failing to actually sell anything, she becomes desperate and commits a misdemeanour.
Eager to get out of the mess she's in, Emmy convinces her kind-hearted boss to give her a chance and let her fill the last minute space on the training scheme for wine salespeople in Dordogne. She's determined to prove not only to herself but also to those around her, that she can make something of her life at the same time as getting herself and her dad out of debt. What follows is a brilliant adventure as Emmy and her colleagues head to France to begin their wine training.
I'm not a wine drinker – I loathe it, but reading this book made me want to like it! Late Summer in the Vineyard really heightens your senses and imagination. I could almost taste the delicious fruity notes in the Clos Beaumont wine. It doesn't matter if you're not a wine drinker as you'll still enjoy this story.
There are some wonderful characters in the book and they really came to life for me. All of the team from Cadwalladers grew and found themselves in the short space of time they were in France. They all discovered new things about their colleagues and they came up trumps for one another which wasn't expected upon being first introduced to them.
Not all of the characters in the book showed their true colours, or strengths, at the start. My opinion changed about several characters as I continued to read. There was one in particular that rang alarm bells with me quite early on. I had a niggling feeling about them throughout, although the story did attempt to sway my instincts on a couple of occasions. There was another character that I wasn't too sure about either, (but not in a 'bad' way) but I was pleasantly surprised as the story moved forward. I won't hover on these two characters as I don't want to give anything away.
One of the most memorable characters, for me, was Madame Beaumont. An old lady with just her blind horse, Henri, and her ageing dog, Cecil, for company at her vineyard. A chance meeting with her changes Emmy's take on life and they form a lovely bond. Madame Beaumont gives Emmy a piece of advice: trust your instincts. This advice stays with her and it keeps her going strong through the tough times she faces, and we soon begin to see Emmy's character evolve.
I had no idea how the story would pan out and if Emmy would eventually get what she wanted out of life. There were also several possible romantic endings but I really didn't know how it was going to finish until I got right to the very end, so it did keep me on the edge of my seat in anticipation, which was great.
If you like romance with a dash of comedy and a splash of culture, then this book is perfect.
Book Reviewed by Jodie
Purchase Links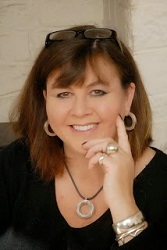 Jo Thomas worked for many years as a reporter and producer, first for BBC Radio 5, before moving on to Radio 4's Woman's Hour and Radio 2's The Steve Wright Show.
In 2013 Jo won the RNA Katie Fforde Bursary. Her début novel, The Oyster Catcher, was a runaway bestseller in ebook and was awarded the 2014 RNA Joan Hessayon Award and the 2014 Festival of Romance Best Ebook Award.
Jo lives in the Vale of Glamorgan with her husband and three children.