Get Coding! by Young Rewired State – Book Review
Get Coding! by Young Rewired State – Book Review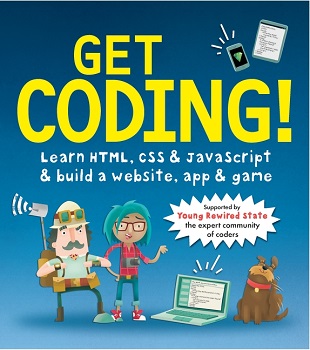 Get Coding!
Learn HTML, CSS, and JavaScript and Build a Website, App, and Game
Author – Young Rewired State
Publisher – Walker Books
Pages – 208
Release Date – 5th May 2016
Format – ebook, paperback
Reviewer – Stacey
I received a free copy of this book
Post Contains Affiliate Links

Learn how to write code and then build your own website, app and game using HTML, CSS and JavaScript in this essential guide to coding for kids from expert organization Young Rewired State.
Over 6 fun missions learn the basic concepts of coding or computer programming and help Professor Bairstone and Dr Day keep the Monk Diamond safe from dangerous jewel thieves.
In bite-size chunks learn important real-life coding skills and become a technology star of the future. Young Rewired State is a global community that aims to get kids coding and turn them into the technology stars of the future.

Get Coding!, is an absolutely fabulous and essential book for children if they want to know how to code a webpage, or build an app. In today's society, we are relying on more and more computerised machinery, and the internet is exceptionally useful and popular, and is only going to become even more important in years to come.
I've believed for a long time that they should teach coding in schools. I remember having an old Amstrad computer as a child and learning how to code, spending hours copying code from a book and then all it did was to make one little image move across the screen. Today, coding is much simpler, easier and creates a lot more than a single moving image.
This book will give children the knowledge to build a webpage, create a password, build and app, plan a route and make a mini-game. It will also show them how to code using the three modern essential languages HTML, CSS and JavaScript. The only things that are needed to be able to use this book are a computer/Mac and the internet.
The instructions are exceptionally easy to understand and follow. They are also split into two so that there is one set for PC and one for Mac computers. Be aware that the instructions are written in American English – this is because computer code is written in American English, so I can only presume that they didn't want to confuse the children.
Children will love Get Coding!, it will teach them valuable skills for the future. It will also give them a sense of achievement as they complete each of the six missions.
Book Reviewed by Stacey
Purchase Links


Young Rewired State (or YRS) is a worldwide community of digital makers and technically gifted people aged 18 and under. It brings together young coders, developers, designers and those with other technical skills to build projects and support each other. The Guardian described its members as "the young people who build the technologies of our future".
As well as meeting like-minded peers, Young Rewired State members can meet expert mentors at free events around the world, like the Festival of Code, a national hackathon. The members work in teams and use freely available open data to build apps, websites and algorithms, solving real world problems.
Author Links