The Wishkeeper's Apprentice by Rachel Chivers Khoo – Book Review
The Wishkeeper's Apprentice by Rachel Chivers Khoo – Book Review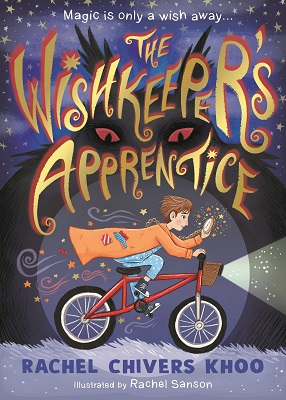 The Wishkeeper's Apprentice
Author – Rachel Chivers Khoo
Illustrator – Rachel Sanson
Publisher – Walker Books
Release Date – 2nd March 2023
Pages – 240
ISBN 13 – 978-1529507904
Format – ebook, paperback, audio
Star Rating – 5
I received a free copy of this book.
This post contains affiliate links.

Synopsis
Wanted! A wishkeeper's apprentice.
When Felix makes a very special wish, he doesn't expect to be offered a job as an apprentice to wishkeeper Rupus Beewinkle. Now Felix must save the town's wishes from the wishsnatcher, who wants to destroy hopes and dreams everywhere.
After a rubbish game of football and being forgotten about by his older sister who was supposed to pick him up after the match, Felix Jones walks into town and decides to make a wish in the town's fountain – His wish is 'To make his sister like him again'.
Shortly after placing his wish Felix sees a strange man collecting the coins from the fountain and accuses him of stealing. The man is shocked that Felix can see him as he should be invisible to 'normal' folk. His name is Rupus Beewinkle and he is the local wishkeeper.
Rupus explains what his job is and also that Felix has just volunteered to be his much-needed apprentice, given that he is the only one who can see him. But the job is harder than Felix ever imagined, plus there is a wishsnatcher in the town who needs to be stopped.
What a delightfully entertaining book The Wishkeeper's Apprentice is. It is filled with magic, adventure, mayhem, and so much more. The characters are easy to connect with and the plot is such good fun.
The book is fast-paced and easy to read which will be appreciated by many middle-graders. The font looked a little larger than average, there are amazing illustrations throughout, some full-page others surround the text, and a lot of children will be able to see themselves in Felix.
Overall, The Wishkeeper's Apprentice is a fabulous story. It leaves the reader feeling happy and has some amusing moments to give them a giggle too. It even has a map at the front and a recipe for 'Snorlicks' (wishkeeper's hot drink of choice) at the back. What's not to love?
---
Purchase Online:
Rachel Chivers Khoo

Rachel Chivers Khoo was born in Belfast and spent most of her childhood sheltering in her local library from the endless Northern Irish rain. She studied English literature at Oxford before working in book publishing. Rachel now lives in London and writes stories in her tiny loft study. The Wishkeeper's Apprentice is her debut novel.
Author Links:
---
The above links are affiliate links. I receive a very small percentage from each item you purchase via these links, which is at no extra cost to you. If you are thinking about purchasing the book, please think about using one of the links. All money received goes back into the blog and helps to keep it running. Thank you.