Children of the Sun by Beth Lewis – Book Review
Children of the Sun by Beth Lewis – Book Review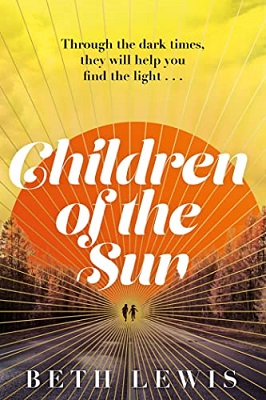 Children of the Sun
Author – Beth Lewis
Publisher – Hodder & Stoughton
Release Date – 25th May 2023
Pages – 432
ISBN 13 – 978-1529357721
Format – ebook, paperback, hardcover, audio
Star Rating – 4
I received a free copy of this book.
This post contains affiliate links.

Synopsis
Summer 1982. Deep in the wilderness, over three hundred people live off-grid in a secret community. Founded by the enigmatic Sol, Atlas is a refuge for broken souls who believe they will soon cross into another world where their past decisions never ended in tragedy.
James Morrow is a rookie New York City reporter who secures an invitation to the camp on the condition he tell the world of its wonders. Although he's sceptical, James understands better than most the desperate nature of their beliefs.
But James soon finds there is a darker side to the cult beyond the prayers and yellow robes. A group of children are treated like gods, there are iron strips embedded in the earth, and nobody talks about what's behind the gates of Sol's private sanctuary.
As the final ceremony draws near, James must ask himself, what will it cost to reach this other life? And is that a price he's willing to pay?
Take a trip back in time to 1982. New York City reporter, James Morrow is searching for answers about the death of his boyfriend and he believes the only place he will find them is within the compounds of 'Atlas' a cult located in the Adirondack Mountains, with a few hundred followers and led by a man called Sol.
The cult has allowed James within its compound to write a piece on them, on the condition he writes about them favourably and shows the world they are not bad people. He doesn't let them know the real reason he is there.
The book has many angles and it's hard to write a review without giving anything away so the above is all I will say about the plot as I don't want to spoil it for anyone.
The story is unusual and is told from four people's POVs (mainly 3, one comes in near the end) and split into days of the week, plus, some chapters are a recount of something that happened in the past. The writing is superb and you will feel plenty of emotions throughout, plus it will certainly make you think about your life and those close to you.
The plot took me a few chapters to get into it and to be honest, I had to re-read the first three chapters just to make sure I fully understood what was happening. Once I was in though I was gripped. I don't think I have ever read a book set mainly within a cult before so this was a breath of fresh air for me and an eye-opener.
The Children of the Sun is a novel you need to read slowly to take it all in and to understand what is happening as there is a lot that goes on that isn't the 'norm' in this world. It is poignant and heart-breaking and it will make you wonder why people blindly follow one person as if they are a god.
Overall, a fabulous read that certainly felt original.
---
Purchase Online:
Beth Lewis

Beth Lewis was raised in the wilds of Cornwall and split her childhood between books and the beach. She has travelled extensively and has had close encounters with black bears, killer whales, and Great White sharks. She has been, at turns, a bank cashier, fire performer, juggler, and is currently working publishing.
Her debut novel, The Wolf Road, was shortlisted for the inaugural Glass Bell Award and her third novel, The Origins of Iris was shortlisted for the Polari Prize. She lives in Oxford with her wife and daughter.
Author Links:
---
The above links are affiliate links. I receive a very small percentage from each item you purchase via these links, which is at no extra cost to you. If you are thinking about purchasing the book, please think about using one of the links. All money received goes back into the blog and helps to keep it running. Thank you.