Second Best by David Foenkinos – Book Review
Second Best by David Foenkinos – Book Review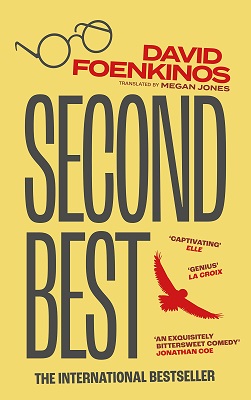 Second Best
Author – David Foenkinos
Publisher – Gallic Books
Release Date – 13th July 2023
Pages – 240
ISBN 13 – 978-1913547592
Format – Paperback
Star Rating – 5
I received a free copy of this book.
This post contains affiliate links.

Synopsis
A magical imagining of the fate of a fictional boy whose life is shaped forever when he loses out on the role of Harry Potter.
It's 1999. Martin Hill is ten years old, crazy about Arsenal and has a minor crush on a girl named Betty. Then he makes it to the final two in the casting for Harry Potter and the Philosopher's Stone.
In the end, the other boy is picked for the role of a lifetime. A devastated Martin tries to move on with his life. But how can he escape his failure, especially when it's the most famous film series in the world?
Foenkinos's smash-hit Second Best is a playful, poignant story about fate, loss and how the lives we wish we'd led might not be all they're cracked up to be . . .
Ten-year-old Martin Hill was in the running to play Harry Potter, getting down to the last two actors to play the character. Unfortunately, the production team decided to go with Daniel Radcliffe. This was the start of the downfall that caused him both physical and mental pain for many years to come.
Second Best is a very poignant, original, and imaginative story. It tells the fictional account of the megastar actor that never was. Martin is devastated when he isn't chosen for the role of Harry Potter, especially when he was sure the role was his.
For Martin, Harry Potter was everywhere, he couldn't get away from the books, the new movie coming out, and everyone talking about it including school friends. He felt like the world was laughing at him for his failure and he couldn't move on from the life he could have been leading. He also began to feel like his life was mimicking Harry's and reality and fantasy began to cross over.
When you think about it there must be thousands of actors, artists, etc out there who have been passed over for work and then they have to live every day having what could have been shoved in their faces. In Second Best Martin's mental health plunges to deep depths and I'm sure in real life this has been the case for many too. Part of me wonders if the author has personal experience of this as it has been written with such profound honesty that the reader feels every emotion and the book is so realistic you have to keep on reminding yourself it is fiction.
Second Best is written in four parts and the chapters are various lengths, some are just half a page, others a few pages long. I found this made the book easier to read and helped it to flow. I rushed through it, not wanting to stop for a second. It most certainly is a page-turner, unputdownable, and satisfying. I absolutely adored it and the ending was just perfect.
---
Purchase Online:
David Foenkinos
David Foenkinos (born 28 October 1974) is a French author and screenwriter. He studied literature and music in Paris. His novel La délicatesse is a bestseller in France. A film based on the book was released in December 2011, with Audrey Tautou as the main character.
Author Links:
---
The above links are affiliate links. I receive a very small percentage from each item you purchase via these links, which is at no extra cost to you. If you are thinking about purchasing the book, please think about using one of the links. All money received goes back into the blog and helps to keep it running. Thank you.