The Vatican Secret by David Leadbeater – Book Review
The Vatican Secret by David Leadbeater – Book Review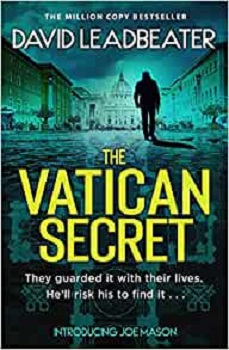 The Vatican Secret
Joe Mason Book One
Author – David Leadbeater
Publisher – Avon
Release Date – 3rd March 2022
Pages – 420
ISBN 13 – 978-0008471118
Format – ebook, Paperback, Audio
Star Rating – 5
I received a free copy of this book.
This post contains affiliate links.

Synopsis
You've met Jack Reacher. You've met Jason Bourne. Now it's time to meet Joe Mason…
When ex-MI5 operative Joe Mason is sent to Rome to guard an elderly professor and his daughter, he thinks he's in for an easy ride.
But on their first day in the Vatican secret archives, a masked assassin gains entry, shoots Joe's client in cold blood and steals an ancient manuscript. Giving chase, Joe can't imagine what could lie within those pages that would make someone willing to kill.
The search for answers leads Joe and his comrades in a race against time, across continents and into treacherous mountains. Only they have a hope of rescuing the Vatican Book of Secrets before a centuries-old enemy can succeed in bringing Rome – and the world as we know it – crashing down…
The Da Vinci Code meets Die Hard in this fast-paced, adrenaline-filled, action-adventure thriller. Perfect for fans of Lee Child and Clive Cussler, The Vatican Secret will have you turning the pages late into the night.
The Vatican Secret is the first book in the Joe Mason series by author David Leadbeater. The book features mystery, action, history, religion, and battles as ex-MI5 operative Joe teams up with his female counterpart Roxy to protect a professor and his daughter as they visit the Vatican's library.
Unfortunately, as a precious book of secrets is stolen the professor pays for trying to protect it with his life, leaving his daughter Sally, plus Joe and Roxy to follow the trail and to try and recover it before the religious group that has taken it reveals secrets from within to the world that could destroy the church.
The book is pure action from the beginning. It has been likened to Jack Reacher and I can see why in Joe's ways as he just wants a calm, quiet life, not one chasing armed men who are prepared to kill anyone and everyone to expose the secrets, yet he is certainly capable of handling all the situations thrown at him.
The supporting cast, including some that joined along the way, were all realistic and the plot became more gripping as the story progresses, especially as you were never sure which side the new 'friends' were really on.
I raced through this fast-paced and exciting book that even though it does feature some religious moments never felt bogged down with information as all were important to the story.
The Vatican's Secret kept me entertained the whole way through and I now can't wait for the next book in the series to be released in September.
---
Purchase Online:
David Leadbeater

David Leadbeater has published more than 40 novels and sold over a million Amazon Kindle e-books. He has now signed for a major publisher – Harper Collins/Avon Publishing, who will release the first two books of a new series in 2022, followed by two more in 2023.
All 30 parts of the Matt Drake series were international bestsellers and continue to top the charts in 2022. The first part of his Relic Hunters series won the inaugural Amazon Kindle Storyteller award in 2017. For a chronological reading order of the Matt Drake, Alicia Myles and Disavowed series' please visit his website.
Author Links:
---
Share your thoughts on The Vatican Secret in the comment section below!
---
The above links are affiliate links. I receive a very small percentage from each item you purchase via these links, which is at no extra cost to you. If you are thinking about purchasing the book, please think about using one of the links. All money received goes back into the blog and helps to keep it running. Thank you.
Like us on Facebook – Tweet us on Twitter – Join us on Instagram