Girl of the Ashes by Hayleigh Barclay – Book Review
Girl of the Ashes by Hayleigh Barclay – Book Review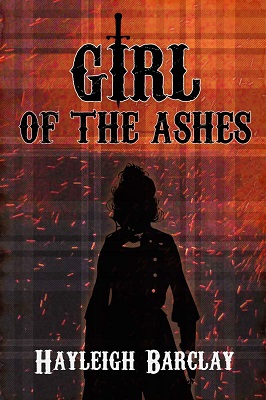 Girl of the Ashes
Author – Hayleigh Barclay
Publisher – Garmoran Publishing
Pages – 270
Released – 19th October 2020
ISBN-13 – 978-1913510091
Format – paperback
Review by – Tina
Rating – 3 Stars
I received a free copy of this book.
This post contains affiliate links.


Scotland 1897. Three hundred and fifty years ago the Inservium overthrew the government of a remote town in northern Scotland and for over three centuries the Phoenix vampires have faced persecution. Eighteen-year-old Elise de Velonte is now caught in a war which threatens to wipe out her entire bloodline.
Between hunting and killing the corrupt Councillors of the Inservium, and fighting against an ancient curse which is tearing apart the families of her coven, she blurs the lines of love and hate to become a warrior and survivor.
Girl of the Ashes has the YA fantasy appeal of Cassandra Clare (The Mortal Instruments) and Richelle Mead (Bloodlines, Vampire Academy). Like these books, Girl of the Ashes mixes the magical world with our own and focuses on a female lead trying to negotiate growing up with the burden of saving those she loves.

A new spin on vampire lore, Girl of the Ashes is a quick-paced, action-filled period piece starring a morally bereft protagonist who will stop at nothing to rescue the man she loves.
I enjoyed the new take on vampires. The detail surrounding their existence, creation, and physical limitations/strengths were well-done. It's clear the author knows a lot about vampire lore, as she's able to maintain the core essence of the supernatural beings while infusing them with new life and direction. I was interested in the vampiric society and wished there had been a bit more of that.
One of the greatest strengths of the novel was Natashka, a person with a disability. The way she is treated by the population, as someone who shouldn't be "out in society", is true to the time period but not something we often see addressed in adventure novels. Usually, we don't get disabled characters at all, let alone those who contribute physically to the action. That fact that Natashka's disability doesn't comprise the extent of her character is admirable and even better, she provides valuable information and physical assistance to the protagonist in battle.
The action scenes are also no-holds-barred, gritty sequences that reminded me very much of Blade. These sections are entertaining and exciting.
Unfortunately, the novel moves at too quick a pace. Information is often thrown at you in long exposition dumps, which, for a short novel, makes the rest of the story rushed. I didn't understand the depth of the love between Elise and Jacque, as we only see them interacting once in a flashback. Instead, Elise going on a murdering spree at the behest of his kidnappers (a faction of religious zealots called the Inservium) felt extreme.
Tied to this, while I enjoyed the twist on the "save the girlfriend" trope, as well as Elise's agency and fortitude, the murdering of innocent people made her extremely unlikeable. She rarely ponders her actions or feels remorse. I think this is due to how much the novel tries to cram into the short word count. I found I wasn't engaged with the story at times because it moves far too fast.
Yet, overall, it's a novel that will appeal greatly to those who love vampire stories and action-adventure in a historical setting.
Book Reviewer – Tina
---
Purchase online from:
---
About the Author

Hayleigh Barclay (b.1987) was born in the west coast of Scotland where she currently still resides spending much of her day being bossed around by two Scottish Terriers. She obtained a BA (hons) in Broadcast Production from the University of the West of Scotland in 2009. After taking a year out she gained an MA in Creative Media Practices from the same university, focusing on script writing, directing and producing for film, TV and radio. In 2011 she undertook a Doctorate of Fine Arts at the University of Glasgow where her thesis investigated how 19th century Gothic vampire literature influences contemporary Goths.
Basically, she knows a lot about vampires!
From a young age she aspired to be a Spice Girl but her family were thrilled when she decided to give up that dream (considering she cannot sing!).
Her debut novel, Girl of the Ashes, written as the main part of her thesis, was released in October 2020.
An avid disability rights campaigner, she has championed issues related to education, travel, and media representation.


---
What did you think of Girl of the Ashes? Share your thoughts in the comment section below!
---
The above links are affiliate links. I receive a very small percentage from each item you purchase via these link, which is at no extra cost to you. If you are thinking about purchasing the book, please think about using one of the links. All money received goes back into the blog and helps to keep it running. Thank you.
Like us on Facebook – Tweet us on Twitter – Pin us on Pinterest