Summer Days on Sunflower Street by Rachel Griffiths – Book Review
Summer Days on Sunflower Street by Rachel Griffiths – Book Review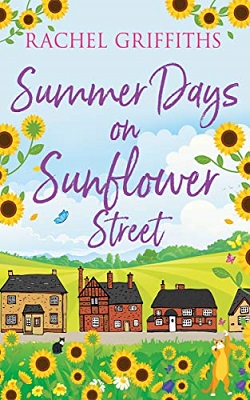 Summer Days on Sunflower Street
Sunflower Street Book Two
Author – Rachel Griffiths
Publisher – Cosy Cottage Books
Pages – 137
Released – 15th May 2020
Format – ebook
Review by – Linda
Rating – 4 Stars
I received a free copy of this book.
This post contains affiliate links.


Roxie Walker has been married to Fletcher for over twenty years. They live in a beautiful house on Sunflower Street, have a cute pug named Glenda and enjoy a comfortable lifestyle. However, Roxie has a feeling that something isn't quite right…
Fletcher works hard and likes to relax on his days off, whether that's playing a round of golf, watching a football match on TV, or pottering around in the garden. Recently, though, he's finding it hard to switch off and he's concerned that Roxie seems to be drifting away from him. He comes up with a plan to try to make things better, but the secrecy required to carry it out creates its own problems.
As summer descends upon Sunflower Street, with warmer days spent at the recently refurbished lido and lighter evenings whiled away, surrounded by roses and honeysuckle in their lovely garden, matters come to a head. It's time for the truth to be revealed, and for grievances — both old and new — to be aired.
Will summer on Sunflower Street bring Roxie and Fletcher closer together or will it tear them apart?

Summer Days on Sunflower Street by Rachel Griffiths is a good follow on from Spring Shoots on Sunflower Street the first book in her Sunflower Street series which I reviewed last month.
Having read the first book I found it easy to get into the story as I already knew the four main characters, Lila Edwards and boyfriend Ethan and Roxie Walker and her husband Fletcher.
Whilst the first book focused on Ethan and Roxie, this time the focus is on Roxie and Fletcher and their life after twenty years of marriage including the ups and downs and misunderstandings!
I really enjoyed the storyline and it was an easy read too. Having read the first book, meeting the characters again was like meeting old friends, although I see in this book Roxie is not so confident as she came across last time. A past tragedy has left her with uncertainties.
The plot flows well and I love the descriptions of the village and life on Sunflower Street. The ups and downs kept my interest throughout to the very end. There were plenty of lovely, happy moments but also some sadness within too, so a good mix.
Summer Days on Sunflower Street is a really good summery read which I would highly recommend, though I would suggest reading Spring Shoots on Sunflower Street first. I now look forward to reading more from author Rachel Griffiths.
Book Reviewer – Linda
---
Purchase online from:
---
About the Author
Author. Wife. Mother. Earl Grey tea drinker. Gin enthusiast. Dog walker. Fan of the afternoon nap.


---
What did you think of Summer Days on Sunflower Street? Share your thoughts in the comment section below!
---
The above links are affiliate links. I receive a very small percentage from each item you purchase via these link, which is at no extra cost to you. If you are thinking about purchasing the book, please think about using one of the links. All money received goes back into the blog and helps to keep it running. Thank you.
Like us on Facebook – Tweet us on Twitter – Pin us on Pinterest