When Darkness Begins by Tina O'Hailey – Book Review
When Darkness Begins by Tina O'Hailey – Book Review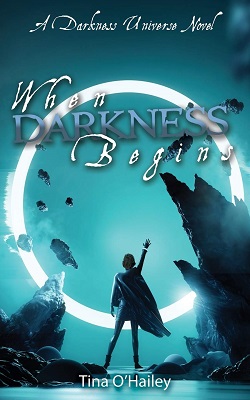 When Darkness Begins
Author – Tina O'Hailey
Publisher – Black Rose Writing
Pages – 230
Released – 28th May 2020
ISBN-13 – 978-1684334957
Format – ebook, paperback
Review by – Julie
Rating – 5 Stars
I received a free copy of this book.
This post contains affiliate links.


If you could change time to save your first love—even if it meant turning your back on the universe—would you?
It is time for the Vechey youth to earn their place as time-guardians. The near-immortal Vechey protect the universe from the devastating Manipulators—devourers of souls, mindless seekers of chaos. First, the youth must survive a mysterious and deadly ritual created by the all-powerful clan leader Eterili. Having regenerated thousands of times with the birth of each universe, Eterili is taking this one as hers and bending all in it to her grand designs.
Catha's time-slipping skills are underdeveloped. She is time-blind—unable to see through time, unable to protect herself from the ritual. The Vechey shun her for being different. Her parents ignore her as if she were already dead.
Aithagg loves Catha unconditionally and will do anything to save her. He tries desperately to unlock the ritual's mysteries and find a way to help Catha survive with him. Or will saving Catha enable the Manipulators to destroy the universe?

'When Darkness Begins' is a fantasy novel from American-based author, Tina O'Hailey, and it is billed as a prequel to 'Absolute Darkness' which I haven't read. The book is written in the third person and the past tense and we see the action through the eyes of several characters.
It took me a while to realise that Aithagg and Alexander are one and the same. So I was confused during the early part of the story when both were featured in different eras. My second bout of confusion happened when trying to understand the distinction between home-time, main-time and frozen-time but a quick recap of the definitions at the beginning of the book helped in this regard.
There are three types of humanoids alive in this and previous universes: the Linears, who have a limited lifespan, the Vechey, semi-immortal vampires, who can only be killed if their heads are separated from their spines and the Manipulators, who inhabit a host body. The Vechey's purpose is to protect time for eternity, as the Manipulators continually attempt to distort it by wreaking havoc and destruction.
At the age of fifteen, the young Yechey go through a ritual to enable the strongest to be propelled through time to their own moment where they sync and stay in frozen-time. They draw strength from the earth and travel to main-time to feed on the blood of Linears. If they avoid decapitation, they only die if the universe ends or if their solitude results in madness, as happens to Aithagg's older brother. Those that bond, continue to go back to home-time to bring up their young.
The matriarch of the Vechey is the all-seeing Aterili, a malodorous, ancient being. We meet Aithagg's parents and the love of his life, Catha, who cannot develop the gifts she will need to survive the ritual and thereafter become his companion through the centuries. Aithagg knows this and uses his skills in an attempt to alter the outcome.
These well-defined characters play their part in delivering an absorbing tale. The main theme is good versus evil and we witness a whole raft of emotions as their experiences unfold. Aithagg and Catha are the focus and their love story will melt the heart of the most critical of reviewers.
Jumping around in time is a difficult concept for an author to convey and the reader to comprehend, but I think the strength of the story outweighs any niggles which might arise around the abstract ideas on offer.
In the first part of the story, there is more description than dialogue but within this framework, it works well. We get to know and empathise with the characters through their thoughts and life events. We know these vampires are nocturnal cave-dwellers and therefore the author didn't have much in the way of landscapes to use as backdrops for her scenes but the fast-paced plot didn't suffer as a result of this.
I enjoyed this unusual book which captured my imagination as the most innovative vampire story I have read to date. I congratulate the author and award five stars.
Book Reviewer – Julie
---
Purchase online from:
---
About the Author

Tina O'Hailey is a professor in animation and game programming, caver and occasional mapper of grim, wet, twisty caves (if she owes a friend a favor or loses a bet), whose passion is to be secluded on a mountain and to write whilst surrounded by small, furry dogs and hot coffee. Tina was once struck by lightning.
She has served as an artistic trainer for Walt Disney Feature Animation, Dreamworks and Electronic Arts. Any movie credit she has is minimal and usually found in the special thanks section. The meager credits do not account for the great honor it was to teach talented artists who worked on numerous feature films and games.
She has authored animation textbooks "Rig it Right" and "Hybrid Animation" published by Focal Press and the Darkness Universe novels "Absolute Darkness" and "When Darkness Begins" published by Black Rose Writing.





---
What did you think of When Darkness Begins? Share your thoughts in the comment section below!
---
The above links are affiliate links. I receive a very small percentage from each item you purchase via these link, which is at no extra cost to you. If you are thinking about purchasing the book, please think about using one of the links. All money received goes back into the blog and helps to keep it running. Thank you.
Like us on Facebook – Tweet us on Twitter – Pin us on Pinterest