Nightfall by Brian Lutterman – Book Review
Nightfall by Brian Lutterman – Book Review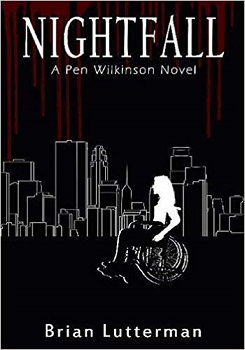 Nightfall
A Pen Wilkinson Novel
Author – Brian Lutterman
Publisher – Conquill Press
Pages – 296
Released – 1st October 2018
ISBN-13 – 978-0999538517
Format – ebook, paperback
Reviewer – Kerstin
Rating – 4 Stars
I received a free copy of this book
Post contains affiliate links.
Paraplegic attorney Pen Wilkinson, fighting through horrific flashbacks from a previous case, returns to Minnesota to investigate the murder of a candidate for governor. Is the murder a crime of passion, a political assassination, or part of a larger scheme?
Fighting opposition from both police and the minority community, Pen presses ahead, unraveling the explosive secret of the thirty-year-old police shooting of a civil rights leader. As tensions mount, Pen's search unearths a horrifying plot to engulf the state in racial violence for political gain.
Stymied by police caution and political gridlock, Pen races to expose the plan before the conspirators can silence their latest target: Pen Wilkinson.

This book is part of the Pen Wilkinson series by Brian Lutterman. Pen Wilkinson is handicapped and bound to a wheelchair after a car accident which killed her niece. Pen is an attorney and former prosecutor, finding the truth is her strong suit.
The ex-wife of Pen's ex-boyfriend, Anita, calls Pen out of the blue and hires her to investigate the murder of her brother-in-law, Blake Lofton, who also happened to be a candidate for governor. The prime suspect: Anita's husband Andre, the brother of Loftons wife Simone.
Pen is determined to find the murderer of Lofton. It is just how she is: she has to find the truth, no matter what. Who has a motive for the killing? What is the motive? Passion or politics? Soon after her arriving in Minnesota Pen finds herself in serious danger but she isn't going to stop her investigations. She has to deal with high powered people and their ego. Big stones are thrown in her way. But Pen is on a mission and it needs a lot to stop her.
I was intrigued by the idea of a handicapped protagonist and was wondering why there aren't more books out there like this. Pen Wilkinson is a very strong woman and determined to find the truth. The reader learns about the difficulties of a paraplegic and with Pen they also see how strong you have to be to make life work.
I appreciate a well-plotted story and I like short chapters because I often read while travelling or during lunch breaks. It is written in an engaging way and it never gets boring which makes it hard to stop reading. The author knows how to lead the reader through a story and the main character is a strong one, but leaves the reader wondering about her secrets. To me, Pen seems to have a mysterious side on her and I like that. It is nice not to know everything about a character right away.
I don't know the other books of the series yet but I am going to read them in the future. Nightfall is a gripping political thriller, a serious page turner. I was totally hooked and I highly recommend reading it. And if you liked it as much as I, then the whole series might be for you too.
Reviewed by Kerstin
---
Purchase online from:
---
About the Author

Brian Lutterman is the author of the mystery-thrillers Bound to Die, a Minnesota Book Award runner-up, and Poised to Kill, described by the Midwest Book Review as ". . .a masterfully woven tale of tycoons and terrorists."
Lutterman, a former trial lawyer and corporate attorney, writes cutting-edge corporate thrillers, bringing to life the genre's outsized conflicts and characters. A graduate of the University of Minnesota and Georgetown University Law Center, he lives with his family in the Twin Cities.



---