Wizard of Wigwash by Ginny Stone and Alastair Kendall – Book Review
Wizard of Wigwash by Ginny Stone and Alastair Kendall – Book Review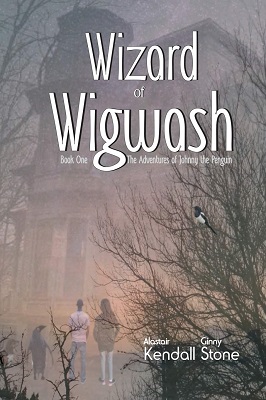 Wizard of Wigwash
The Adventures of Johnny the Penguin
Author – Ginny Stone and Alastair Kendall
Publisher – National Library of South Africa
Pages – 312
Released – 18th August 2019
ISBN-13 – 978-0639833019
Format – ebook, paperback
Review by – Stacey
Rating – 4 Stars
I received a free copy of this book.
This post contains affiliate links.


Imagine being afflicted with an atrocious disease and not even realising that you have it?
Ten-year-old Paul Balo has a rare genetic disorder which makes him smell like fish bait. His life is a miserable cycle of being nagged by his family to shower more often and being bullied by his peers.
His only friends are a penguin named Johnny that understandably thinks he smells delightful and Polo, a rumbustious mutt, destined for the dog pound.
Paul's camp money has been stolen by bullies and he's too afraid to tell his parents that he's not actually going—they are convinced that school camp will be the making of their smelly son. Johnny saves the day by spiriting Paul and Polo off to the magical land of Wigwash for a week of fun instead. Without his parents' consent of course.
But things don't work out quite as Johnny planned.
The innkeeper's daughter convinces Paul to disobey an order and they inadvertently find themselves in a time when Wizards were evil and life was decidedly tough. Can Johnny save his friend?
Will Paul ever see his family again?

Paul Balo is only ten-years-old but is having to deal with the school bullies every day. Whilst on a visit to the zoo, Paul meets Johnny an Emperor Penguin who isn't impressed with the bullies who have thrown his lunch into the penguin enclosure and tipped the belongings of his bag into a puddle.
Paul and Johnny become good friends and Johnny offers to take Paul away for a few days but Paul's mum refuses to allow him to go anywhere with a penguin he has just met. Plus, he is due to go on the school camping trip. However, on the day of the trip, Paul decides to go with Johnny anyway, well his mum will never find out!
The two, plus Polo the dog, travel to the land of Wigwash, though they must keep the place a secret. They were supposed to have a great time in the magical land, but they find themselves in trouble. How will they ever get back home?
Wizard of Wigwash is a fun, adventure story for young – middle-grade children. It is easy to read. The plot, wording, and pacing of the book have all been thought out well so that they appeal directly to a child.
Having one of the main characters as an animal will appeal to children too. Johnny is a caring and highly amusing penguin who gets by in the human world as people seem to think he is a man dressed in a penguin costume.
Paul is a bright lad that is unfairly picked on by the school bullies because of the way he smells. His family is not very sympathetic either, believing that he doesn't wash or brush his teeth properly rather than the fact he has a rare genetic disorder.
The book has some lovely messages for children and is very enjoyable. It is quite a long children's book though at 312 pages, so I think it may take a younger child some time to get through and the length could be off-putting to some middle-graders too, which would be a shame as it really is a fab read.
Book Reviewer – Stacey
---
Purchase online from:
---
What did you think of Wizard of Wigwash? Share your thoughts in the comment section below!
---
The above links are affiliate links. I receive a very small percentage from each item you purchase via these link, which is at no extra cost to you. If you are thinking about purchasing the book, please think about using one of the links. All money received goes back into the blog and helps to keep it running. Thank you.
Like us on Facebook – Tweet us on Twitter – Pin us on Pinterest