Poppy Pickle by Emma Yarlett – Book Review
Poppy Pickle by Emma Yarlett – Book Review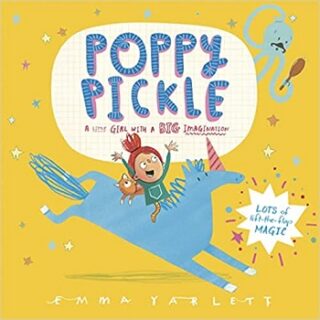 Poppy Pickle
Author – Emma Yarlett
Publisher – Templar Publishing
Release Date – 5th January 2023
Pages – 32
ISBN 13 – 978-1800784192
Format – paperback, hardcover
Star Rating – 4
I received a free copy of this book.
This post contains affiliate links.

Synopsis
A fantastic new edition of this joyful and vibrant story about a girl with a big imagination – now packed with lift-the-flap fun!
Poppy lives in an ordinary house with ordinary parents but Poppy is EXTRAORDINARY. You see, her imagination comes ALIVE . . . and sometimes it gets her into a bit of a pickle. Poppy's room is soon packed with wonderful creatures, which might sound fun, until it starts to go very, VERY wrong! Poppy needs to get rid of all these creatures FAST – but how?
This EXTRAORDINARY new edition is perfect for sharing and reading together – with flaps both big and small for little hands to lift. Ideal for fans of Emma's other titles, such as Dragon Post; Orion and the Dark; Sidney, Stella and the Moon and the Nibbles the Book Monster series.
Poppy Pickle is a young girl with a very large imagination. Usually, her thoughts are just that, imaginary but one day whatever she imagines comes to life, which starts great at the beginning. Chocolate trees, a castle made of cake, etc. Then the creatures that could eat her are imagined and things go downhill rapidly.
Poppy needs to get rid of her imaginary items fast but how can she do it? Especially before her parents find out.
This book is a whole lot of fun. Poppy is a wonderful character, so full of vigour and joy though her imagination gets her into trouble sometimes.
The story is filled with funny moments and contains numerous lift-the-flaps, some quite small, whilst others are bigger than the book. Plus, amazing illustrations fill each page.
Poppy Pickle is a fantastic book for youngsters. Hopefully, it may help them to open their imaginations as well. It is easy to read so perfect for new readers and would work well as a bedtime story too.
---
Purchase Online:
Emma Yarlett

Emma Yarlett is an award-winning author, illustrator and typographer.
Emma's bestselling book series Nibbles has sold over half a million books across five continents, won numerous awards and accolades and has nibbled it's way onto the bookshelves and imaginations of children across the world. Emma's self-penned picture books Orion and the Dark, Sidney Stella and the Moon and Poppy Pickle have also achieved global success, won numerous awards and been adapted into theatrical plays and other media.
Emma studied illustration at Falmouth University and graduated with first class honours in 2011. She began work on her first self-penned picture book Sidney, Stella and the Moon whilst still studying at university.
Emma now lives in Falmouth, Cornwall with her husband Alex.
Author Links:
---
The above links are affiliate links. I receive a very small percentage from each item you purchase via these links, which is at no extra cost to you. If you are thinking about purchasing the book, please think about using one of the links. All money received goes back into the blog and helps to keep it running. Thank you.