Running in Circles by Claire Gray – Book Review
Running in Circles by Claire Gray – Book Review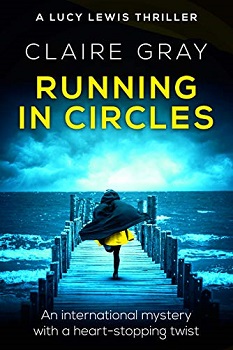 Running in Circles
Lucy Lewis Thriller Book One
Author – Claire Gray
Publisher – Sapere Books
Pages – 257
Released – 26th December 2018
ISBN-13 – 978-1912546336
Format – ebook, paperback
Reviewer – Stacey
Rating – 4 Stars
I received a free copy of this book.
This post contains affiliate links.
You can't outrun murder…
When Lucy Lewis landed herself a reporting job on an idyllic Thai island, she thought she'd found paradise.
But one day her dream turns into a nightmare…
A bomb goes off outside her hostel and there is more than one fatality. Although the local paper she works for is mainly a tourist guide, the phone is soon ringing off the hook with people desperate to hear news of their loved ones.
Together with her editor, Steve Boyd, Lucy finds herself drawn into the investigation.
And things become more complicated when the dead body of someone connected to the paper washes up on the shore.
Was the bomb planted by terrorists? Are the two incidents connected?
Lucy finds herself running in circles as she desperately searches for the key to the mystery…

Lucy Lewis is a young journalist working for a local newspaper far away from her home on a small Thailand Island where nothing much happens. There are just two people working at the news agency, Koh Star News, herself and her editor Steve.
Lucy has been on the island for six months and is used to writing about easy stories such as tourists getting married on the beach. However, one evening a bomb goes off across the road from the hostel she has been staying at, outside a bar. Numerous people are killed and many more injured.
After the pair pull themselves together and manage to get over the shock of the bomb, it's time for some investigative work. Lucy first though has to see the local golf course owner about a story she promised to cover in the paper. The owner, Shuttleworth, though wants info on the bombing. He believes he might have some valuable information which he shares with Lucy. However, it's not long before Shuttleworth is beaten and taken hostage.
Something sinister is at play on the island and Lucy and Steve are determined to find out what it is and who is responsible for the bombing but there are eyes everywhere on the island. Can they find the truth and make it public before the pair are permanently kept quiet?
The book begins not long before the bomb goes off killing numerous people. Lucy was showered in glass in her room at the local hostel, just across the road and witnesses the aftermath of such a devastating event. We witness her trying to come to terms with the explosion and the sights she has seen, from not sleeping, eating, and being sick. Eventually, she realises that being a journalist means that she is to cover the story, but she is damn sure if she is going to cover it she is going to get the truth and that means doing some digging in places some people don't want her too.
The plot has plenty of drama and action throughout and both Steve and Lucy were great characters to share my time with. Lucy was perfectly realistic and her reactions to the events were hard to watch but at the same time, you get to see a woman who has been through some hard times in her past and the strength that they have given her.
I was kept intrigued right until the end wanting to be there every step of the way as the story unfolds. Why would anyone want to explode a bomb on a little island where not much happens?
I think this is the first book I have read that is set in Thailand and Ms. Gray sets the scene perfectly. I believe this is the first in a new series and I can't wait to read the next book.
Reviewed by Stacey
---
Purchase online from:
---
About the Author

Claire Gray lives in the South Lakes with her husband and two small children. She studied Creative Writing at the Cumbria Institute of the Arts, which no longer exists, having been absorbed by the University of Cumbria. She graduated in 2006 and then went on to complete a journalism course at Darlington College. That same year, she won a Northern Promise Award from New Writing North, and her work was featured in their anthology, entitled Ten Years On.
Claire now works as a freelance copywriter and continues to write short stories, some of which have been published in magazines and online. Recently, she has been guest editor for the prose section of SpeakEasy Magazine, which showcases Cumbrian writing.
In 2015, she received editing advice from The Literary Consultancy through their Free Read scheme. They subsequently felt that her manuscript, Running in Circles, showed potential, and began approaching literary professionals on Claire's behalf. This resulted in the novel being placed with Sapere Books, and Claire is very excited to be a part of their inaugural launch list.


---
The above links are affiliate links. I receive a very small percentage from each item you purchase via these link, which is at no extra cost to you. If you are thinking about purchasing the book, please think about using one of the links. All money received goes back into the blog and helps to keep it running. Thank you.