Bubbles by Malcolm Howard – Guest Post
Bubbles by Malcolm Howard – Blog Tour & Guest Post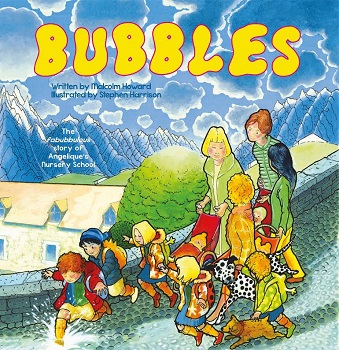 Bubbles


The fabubbulous story of Angelique's Nursery School
Author – Malcolm Howard
Illustrator – Stephen Harrison
Publisher – Clink Street Publishing
Pages – 58
Release Date – 2nd March 2017
ISBN 13 – 978-1911525134
Format – ebook, paperback
Post contains affiliate links.

Angelique has long thin legs, long thin arms and a turned-up nose on which sits an enormous pair of spectacles. Her spectacles are so big that they look like magnifying glasses and make her eyes look very large. She normally wears black shoes, a blue dress and a red scarf, and she had just been awarded all her Certificates and Diplomas to become a teacher. But she needs a job.
Retuning to her home village at the foothills of the French Alps, Angelique finds her childhood school has closed! All she needs is determination, enthusiasm and ten pupils to re-open the school and realise her dreams. But Angelique soon realises that her daily adventures have only just begun.
A guest post on how your family decided to make your story into a book for your 70th!
Cast of characters
The ex-wife – Della (known as Delilah)
The Sister – Margaret (Maggie)
Maggie's best friend from school – Sarah
Maggie's artist next door – Steve Harrison
The sixth richest family in France – Anonymous
So, Delilah was working as a Nanny/Governess for the sixth richest family in France and skyped me one day for story ideas. The precocious offspring had soaked up everything she ever knew, or could find in storybooks, and still they wanted more. It was Delilah's fault – she is a great storyteller.
Delilah was working in this Chateau in the Alps and I was staying nearby in a place called 'the funny house' (to get upstairs you had to go out the front door and up an outdoor staircase). "Can you write me a story" she said.
Looking out of my window I could see the old abandoned schoolhouse in the village.
One of my favourite books when I was young was "Angelique and the King" so I picked the name for my schoolteacher and wrote Monday at the top of a sheet of paper (okay a word document). The little story went down well with the children so Tuesday, Wednesday, Thursday and Friday followed over the next few weeks.
About that time Delilah massively broke her leg in a skiing fall and took sick leave, so the project dried up, but not before my Sister, who has four Grandchildren, saw the stories. Her oldest friend, Sarah, was a Publisher and her next-door neighbour was an artist and she concocted a plan for my 70th birthday.
I can't say it was a surprise because I was required to put in a bit of work to pull the stories together in a cohesive way. But about a year later a thousand copies of a lovely feeling, and lovely looking, book arrived at my home in England in 50 cardboard boxes. Steve the artist had created the most beautiful pictures.
We have now entered the ruthless world of selling Children's books. This is no longer a Children's story – it is adult, and very scary!
Footnote;
Delilah and I would be celebrating our 40th 'Divorce Anniversary' this year, if I had a clue on which date the decree absolute came through. But I don't! We are now the best of friends. We have two sons, Don and Jim aged 47 and 45 and a 17-year old Grandson, who is half French.
Purchase Links


Now retired Malcolm Howard lives in Walton-On-Thames Surrey. Malcolm has enjoyed a varied career from being a part of the Queens Surrey Regiment, to moving to the French Alps where he set up a Ski High School, now part of the British Ski Academy, before returning to Surrey to work for the probation service.
In his spare time he continues to lend a hand at the local Council as well as visit the mountains in France where his son still lives.