A Stranger's House by Clare Chase – Guest Post
A Stranger's House by Clare Chase – Blog Tour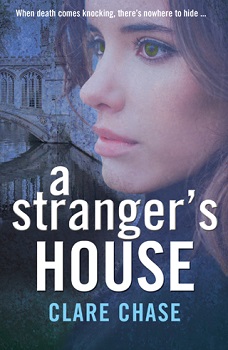 A Stranger's House


London & Cambridge Mysteries
Author – Clare Chase
Publisher – Choc Lit
Pages – 320
Release Date – 7th February 2017
ISBN 13 – 978-1781893470
Formats – ebook and paperback
Contains affiliate links.

What if you were powerless to protect the person you cared about most?
When Ruby finds out that her partner has done the unforgivable, she has no option but to move out of their home. With nowhere else to go, a job house-sitting in Cambridge seems like the perfect solution.
But it's soon clear the absent owner hurts everyone he gets close to, and Ruby's faced with the fallout. As violent repercussions unfold, her instinct is to investigate: it's a matter of self-preservation. And besides, she's curious…
But Ruby's new boss, Nate Bastable, has his eye on her and seems determined to put a stop to her sleuthing. Is he simply worried for the welfare of a member of staff, or is there something altogether more complicated – and potentially dangerous – at play?
Guest Post – Through the keyhole – inspiration for mystery fiction
Thanks so much for having me on Whispering Stories, Stacey! It's really great to be here.
The paperback of my first Cambridge mystery, A Stranger's House, is just out, and with that in mind, I thought I'd confess how my nosiness inspired the book. The fact is, I love snooping round other people's houses. I hasten to add that I'm not in the habit of sneaking upstairs when my hosts' backs are turned, or rifling through their drawers! (If only I was just that little bit more audacious…) But I am interested in what you can guess about a person from their surroundings.
My mind enters the realms of Sherlock Holmes as I try to spot tiny clues that might mean something. It was this idea of being able to 'read' a house to understand its occupants that gave me the initial inspiration for A Stranger's House.
Most of the time, looking at a person's belongings might give you a clue as to their hobbies maybe, or the people and places they hold dear. But I started to wonder what someone would do if they were faced with a house that told a different story: one that spoke of an owner with a warped outlook on life, and a series of dysfunctional relationships.
My heroine, Ruby, leaves her home in a hurry, after finding her partner in bed with a neighbour. The story opens when – after a few nights in a B&B – she takes up a house-sitting job in Cambridge. It seems like the perfect solution, allowing her to escape the gossips in her village and earn some extra cash whilst she's at it. But right from the start, her new lodgings make her uneasy. Why did Damien Newbold, the absent house-owner, go away in such a hurry? The fridge is full of expensive food that will have gone off by the time he returns. And what lies behind the unsettling paintings on his bedroom wall? From the contents of Newbold's bin, to the blood stain on the edge of his Persian rug, everything builds up a picture; one that tells Ruby there's more to come, and it's not going to be pleasant. It's not long before River House starts to feel like a dangerous place to stay, but Ruby has nowhere else to go.
She gets far fewer clues about her new employer Nate, who owns of the house-sitting business. She never sees him on home turf, and he keeps himself to himself to an almost obsessive degree. It's not long before Ruby guesses he's got something to hide, but his secret, when she finally discovers it, knocks her for six.
I think my own fascination with the relationship between a house's contents and its occupants started at home. Most of our furniture was old, and had acquired plenty of dints and marks put there by us, as well as by past generations of our family. Who was responsible for the imprint of a tiny pair of sewing scissors on the wooden coffee table? And what about the ring-shaped stain on the side of the wall-mounted treasure cabinet, caused by a mug? Someone at some point must have delayed putting it up for so long that it got used as an occasional table! This was an example of a visible mark that told me something about the character of the person who'd made it (as well as making me feel better about my own tardiness in getting jobs done)!
In the house I live in now, with my husband and children, we've found ancient newspapers under the floorboards, dated wallpaper in tucked away cupboards, and all sorts of fascinating clues about former residents.
And of course, the device has been used in fiction many times before – famously in Great Expectations where the reader gets a pretty clear impression of Miss Havisham's state of mind from the room she occupies!
I very much hope you feel like taking a peek into Damien Newbold's home, overlooking Midsummer Common and the river in Cambridge. It may be high summer, but there's definitely a chill in the air…
Purchase Links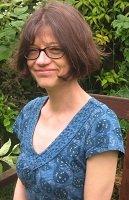 Clare Chase writes women sleuth mysteries set in London and Cambridge. She fell in love with the capital as a student, living in the rather cushy surroundings of Hampstead in what was then a campus college of London University.
After graduating in English Literature, she moved to Cambridge and has lived there ever since. She's fascinated by the city's contrasts and contradictions, which feed into her writing. She's worked in diverse settings – from the 800-year-old University to one of the local prisons – and lived everywhere from the house of a Lord to a slug-infested flat. The terrace she now occupies presents a good happy medium.
As well as writing, Clare loves family time, art and architecture, cooking, and of course, reading other people's books. She lives with her husband and teenage children, and currently works at the Royal Society of Chemistry.
Author Links