Missing You in Belmar, NJ by Mick Bennett – Book Review
Missing You in Belmar, NJ by Mick Bennett – Book Review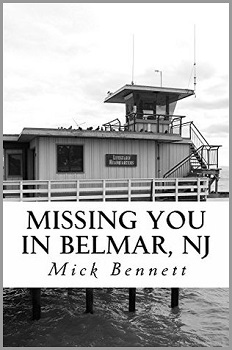 Missing You in Belmar, NJ
Author – Mick Bennett
Publisher – Unsolicited Press
Pages – 168
Release Date – 4th August 2014
ISBN-13 – 978-0692256893
Format – ebook, paperback
Reviewer – Julie
I received a free copy of this book
Post Contains Affiliate Links

Meet Jimmy Hanlon. It's summer, 1987. Jimmy's a closeted bisexual in his late forties, nine months removed from a laryngectomy, and in this first part of a trilogy, he's anxious to find a new identity in his Jersey Shore hometown.
He hitches his hopes to a 33 year old lifeguard. The two cruise into summer with an assortment of boardwalk denizens and bar hounds. When they both fall for the same pretty nurse, the ride starts to get bumpy.
In Jimmy's story of redemption, dreams, familial and romantic love, misogamy and prejudice, accommodation and empathy, he discovers that the real victories occur in the small, courageous moments of our lives that overcome societal and personal prejudice.

'Missing You in Belmar, NJ' is a novel by American author Mick Bennett. The book is written in the first person and we experience the story mainly through the eyes of the main protagonist, Jimmy Hanlon.
We are quickly introduced to the shame Jimmy experienced at a young age when struggling with his sexuality, which appears to have shaped his life. By way of a quirky feature, the author has given him a laryngectomy.
Jimmy is a colourful local character and the book is summed up nicely just over half way through:
'One thing about living in a small town that just happens to have an ocean on its eastern border – every summer brings something new.'
Accordingly, we witness various casual social encounters between Jimmy and his main foil, Ronny as well as a host of other characters. I confess at times to getting a little confused but for the most part, the supporting cast were fairly peripheral.
As a British reader of an American book, I struggled a little in places with some of the dialogue, of which there was quite a lot. I liked the descriptive passages as Jimmy watches the world from his home near the beach in Belmar. There were also smatterings of humour, pathos and irony, with Jimmy and his mates referring to the removable prosthesis inserted into his laryngeal stoma as his "voice".
Bennett's depicts life in Belmar in a realistic, gritty way but I'm not sure it's enough to carry the whole book and I felt it was a little thin in the plot department. Essentially, the story is a snapshot in time, a microcosm of everyday community co-existence during one summer in the late eighties.
My interest was pricked by a couple of promising threads which I hoped would develop but they never really did. Most of Jimmy's memories centred on negative situations however, dipping into his backstory helped flesh out his character.
This novel has been sensitively written; Jimmy is a complex individual, getting through life the best way he can. He is bearing up to the dysfunctional relationship he has with his family and surrounding himself with all sort of disparate people in an attempt to stave off loneliness and gain acceptance.
Having re-read the synopsis, I suspect there may have been more layers to this story than I was able to appreciate, so I apologise to the author for not being able to grasp some of the points he was trying to convey. Whilst I hope the story of Jimmy's life will appeal to many readers, I didn't engage with it as much as I'd hoped and on this occasion, I award Missing You in Belmar, NJ three-and-a-half stars.
Book Reviewed by Julie
Purchase Links


Mick Bennett is what most writers start out as: human. A person with a rich background and an ever-shaping imagination that eventually unleashes itself onto paper.
Bennett grew up in Belmar, NJ, two blocks from the beach. From moments as a lifeguard in New Jersey to bar tending in Pennsylvania to teaching English at all levels, Bennett is currently living his life building characters, plotting climaxes and kickin' ass wherever he goes. It is no doubt that his trilogy Missing You in Belmar, NJ is an instant success — the setting is real, the characters fit together and the plot moves the reader through a series of events that keep you wondering how the main character has managed to survive.
But that's why his characters survive — they don't know how to do anything else. Bennett's work is influenced by Carver, but never does the work of the past shroud the work of Mick.
Mick Bennett holds an M.A. from Shippensburg University. But who cares because that didn't make him a writer. His dedication to the craft and ability to describe rich worlds make him a writer. Prior to publication with Unsolicited Press, Bennett self-published The Bread of Teaching in 2009. The book demonstrates Bennett's forward push toward publication with a press. Bennett has been married to his wife for nearly 31 years, and they have two children, Nathan, 26, and Erin, 20. His life is simple and simplicity is divine.